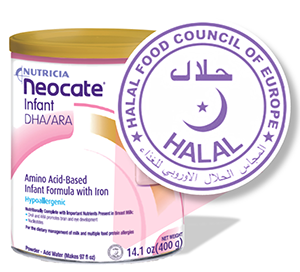 Some of you may have noticed a tiny symbol on the label of Neocate (see the picture to the right). This symbol indicates that Neocate Infant is certified halal.  If you are not familiar with this term, below is some very high level information:
What is Halal?
Halal is an Arabic word meaning "lawful" or "permitted."  Halal is a dietary food standard for people who follow Islamic dietary laws. Foods certified Halal are permitted foods. The opposite of halal is haram, which means "unlawful" or "prohibited" in Arabic. (While halal is similar to kosher, in that both are religious dietary laws, the two are not the same: halal certification does not equal kosher certification.)
Some examples of haram (not permitted) foods include:
swine/pork or pork byproducts
animals improperly prepared
animals killed in the name of anyone other than Allah
alcoholic drinks and intoxicants
carnivorous animals, birds of prey and certain other animals
blood and blood byproducts
foods contaminated with any of the above
You can read more about halal and haram foods on The Halal Food Council of Europe (HFCE).
What Neocate products are Halal?
Nutricia has had several Neocate products certified halal by the Halal Food Council of Europe. (Several Neocate products are certified kosher.) Neocate products with halal certification include:
Let us know in the comments below if you have any other questions on this subject.
– Rob McCandlish, RDN
Last updated September 2020
Published: 10/15/2013