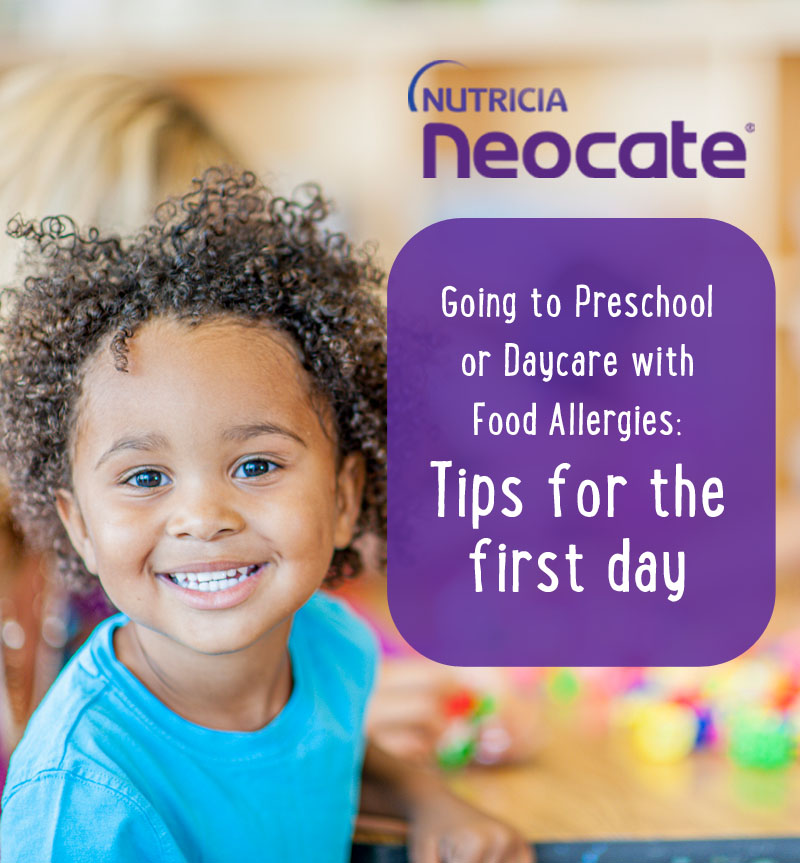 The first day of preschool or daycare is an exciting time for young children. It's usually also an exciting time for parents, too! Sometimes, introducing little ones with food allergies and related conditions into a new environment can be scary.
PREPARE FOR PRESCHOOL OR DAYCARE WITH FOOD ALLERGIES.
If this situation is one you will face soon, then it's crucial to educate your child's teachers and caregivers about food allergy precautions and safety BEFORE the new adventure begins. Remember, an ounce of prevention is worth a pound of cure!
This post will outline simple steps that you can follow to help make sure the transition and first day of school is a safe one for your child. We think these steps will also give you some much-needed peace of mind, not to mention we think your little one's teacher and/or caregivers will appreciate it! With each tip, you will find additional suggestions on how to set yourself up for safety success.
9 EASY TIPS FOR PRESCHOOL OR DAYCARE WITH FOOD ALLERGIES
1.      SCHEDULE A BACK-TO-SCHOOL CHECK-UP WITH YOUR PEDIATRICIAN AND/OR ALLERGIST.
Why, do you ask? Because back-to-school is the perfect opportunity to make sure that your current allergy management plan is still effective. For example, if epinephrine auto-injectors are part of your plan, do you have enough and are they expired? The healthcare team will ask the right questions to make sure you're prepared to manage allergies in your little one's new environment. You can also let them know you'll be asking the preschool or daycare about a care plan (more on that below).
2.      START THE DISCUSSION WITH THE PRESCHOOL OR DAYCARE TEAM ABOUT CREATING AN INDIVIDUALIZED CARE PLAN.
Ask how the school can work with you to develop a written plan to meet your child's needs, so they can actively participate and be safe at school. This allergy plan may be covered under a 504 plan in the U.S.. The school may ask you to provide medical information or other documents from your child's healthcare team. A 504 plan is a written plan that describes exactly how the school will ensure your child's needs are met and allow your child to participate safely during all parts of the school day. A team at the school will ensure your child qualifies for a 504 plan.
3.      PROVIDE TEACHERS AND CAREGIVERS WITH HANDOUTS ON YOUR CHILD'S ALLERGY TO HELP PREVENT ACCIDENTAL EXPOSURES
You've probably seen handouts like this at the doctor's office or on websites for families managing food allergies. Grab one while you're at the appointment you just scheduled and put it to good use! These handouts are often written to help people who are less familiar with the condition to get a basic understanding. While you're at it, write your child's name on the brochure to make sure it stays in the correct file!
4.      MAKE SURE TO DOCUMENT YOUR CHILD'S FOOD ALLERGIES AND RELATED CONDITIONS AND ANY MANAGEMENT PLANS IN PRESCHOOL OR DAYCARE PAPERWORK.
Many preschools, schools, and daycare operations have sophisticated systems to keep track of important items like this. Ask in advance what you can bring to include in your child's file. This way, you can be certain that they have the information you want them to have in the place and format that will be useful for them. Scratch that one off the list!
5.      MAKE SURE THAT YOUR CHILD FULLY UNDERSTANDS WHAT CAN TRIGGER THEIR ALLERGY.
We understand – lots of parents always want to be with their child to ensure their safety. Parents of children with allergies are no exception! But if you haven't had this conversation with your child yet, don't wait! Your child will be away for several hours in an environment that presents the risk of exposure to allergens. Start now, don't wait, and help your child to advocate for themselves!
6.      LOOK AT UPCOMING LUNCH OR SNACK MENUS AND IDENTIFY OPTIONS, AND PROVIDE THE PRESCHOOL WITH A LIST OF FOODS THAT YOUR LITTLE ONE CAN ENJOY AT ANY TIME.
Many preschools and daycare operations plan their menus and provide them to a state agency to ensure they meet specific nutrition standards. To help plan ahead, give them a list of foods that don't contain your child's allergens at the beginning of the year!
7.      IF NO SUITABLE MENU OPTIONS ARE AVAILABLE, PACK FOOD FROM HOME AND MAKE SURE YOUR CHILD KNOWS NOT TO SWAP WITH THEIR CLASSMATES.
First, make sure the preschool or daycare knows you'll be doing this, and ask if they have any requirements. They may require you label and date items, for example. Make sure to give clear instructions about storage. For instance, if your child's lunch needs to be kept separate from allergen-containing foods. Last, explain to your child that they have a special lunch, prepared with love by you!
8.      OFFER TO BRING IN ALLERGY-SAFE TREATS FOR HOLIDAYS AND SPECIAL EVENTS (IF THE SCHOOL ALLOWS).
This way, you know that your child is safe, and won't feel excluded from the fun! Note: some schools now do not allow freshly baked items, and require caregivers to bring in packaged items. Give the teacher or staff a bag with treats, so they can use them one by one as needed for your child during holidays and birthdays.
9.      FOR CHILDREN THAT USE A SPECIAL FORMULA, ASK WHAT YOU NEED TO PROVIDE.
Some preschools or daycare centers require parents to bring formula prepared. Generally, schools are okay if you provide pre-measured powder and clear preparation instructions, so make sure to ask. If your little one consumes Neocate® Splash, consider bringing a few extra drink boxes to keep as an emergency supply.
These steps will prepare you and your little one for success and safety on the first day. Start now, and check them all off!
Nita Parsnani and Rob McCandlish, RDN
Neocate® is a family of hypoallergenic, amino acid-based medical foods for use under medical supervision and is indicated for cow milk allergy, multiple food allergies and related GI and allergic conditions. Talk to your health provider to see if Neocate is right for you.
Last updated on 12/20/2022. 
Published: 08/19/2009