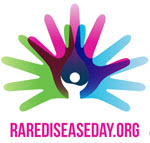 The last day in February every year marks the annual celebration of Rare Disease Day, which was established in 2008 by The European Rare Disease Organization (EURORDIS). While most years that falls on February 28th, but every Leap Year Rare Disease Day falls on February 29th, the rarest day! In 2009, EURORDIS asked the US-based National Organization for Rare Disorders (NORD) to join the initiative and sponsor Rare Disease Day in the United States.
What is a Rare Disease?
You may be wondering, "What is a rare disease?" Each country has a slightly different definition on what qualifies as a rare disease. In the US, a disease or disorder is defined as rare when it affects less than 200,000 Americans at any given time.
Because these diseases are so, well, rare, diagnosis is often delayed and funding for medical research and progress on new resources and management options is limited. This lack of awareness and resources makes living with rare disease especially challenging. Rare Disease Day presents a key opportunity to be heard.
Rare Disease Day is a great time to recognize those with unique conditions, but we can all be advocates for rare diseases all year round!
Tips for Success – How to Advocate
If you or someone you know has a rare disease, you may find yourself advocating on behalf of the issue regularly. Some examples of advocating could include: educating family members, school classmates or faculty, coworkers, and your community members on your needs in relation to your diet and rare disease. Let's take a moment to go over some tips to help you be a better self-advocate.
Know your "Ask". Advocacy should be a call-to-action, so what action would you like the person or organization to take on your behalf? It is important to keep the action you are seeking – or your "ask" – in mind and make sure to state it at the beginning and end of the conversation so everyone is clear on how they can best help you. It can be something specific like support for a piece of legislation, or something broad like funding for research or medical coverage. When presenting your "Ask", make sure you are clear on what actions they can take to support you when living with a rare disease.
Tell Your story. There is nothing more powerful or more helpful for key people than your personal story. When key decision makers know your story and how your request will benefit you and others in your community, that is the best motivation for them to help you, and motivate others to join them and get something accomplished on your behalf.
Maintain Communication. Once you create that relationship, make sure to keep up with communication so you can encourage progress. Communication when things are going well and when a change is desired is important. Relationships with key people, like legislators or members of the media, are important, but relationships with their staff are equally or sometimes even more important.
If you have a rare disease story to tell, let us know ! The Neocate team would love to hear from you and learn about how our products have helped you.
Rare Disease Day logo is a property of https://www.rarediseaseday.org
Published: 02/28/2018