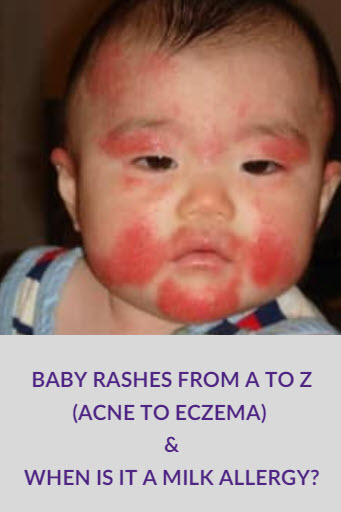 Baby rashes…What new parent hasn't asked questions like this: "Where did THAT come from?" Or maybe, "Why is she suddenly so ITCHY?" Or even "What ARE all of those little bumps on her head?"
Babies drink what we give them (unless they don't like it!), wear what we put on them (until they take it off!), and tend to stay where we put them (until they go mobile!). If adults are in control, and a baby never leaves our sight, we should have answers to these questions. But almost every new parent comes up against a skin condition that they can't explain.
As newborns grow and develop, they can experience baby rashed and other different skin conditions.
Some are typical, whereas others can be hard to explain. In today's post, we're going to walk through some of the most common questions and answers related to baby rashes. Food allergies can play a role in some of these conditions, so we'll point out where that's the case. 
Acne
Is something we associate with teenagers, but it can happen anytime in life. This acne is usually related to hormones, and babies sure do have hormones! Where do babies get hormones, maternal hormones are passed through the womb. Baby acne is harmless and usually goes away within a few weeks.
According to MayoClinic, "Baby acne can occur anywhere on the face but usually appears on the cheeks, nose, and forehead. Baby acne is common — and temporary. There's little you can do to prevent baby acne. Baby acne usually clears up on its own, without scarring." Read more to learn when to see a doctor about baby acne. 
Atopic Dermatitis and baby rashes 
Atopic dermatitis – which may also be called atopic eczema, involves scaly and itchy rashes that can be over a small or substantial part of the body. Allergens in the air (pollen, mold, dust mites, or animals), dry skin, or any number of factors. The severity of symptoms varies from one person to another. There's an association between atopic dermatitis and food allergies, especially in cases of severe atopic dermatitis. At this time, it's not clear if one causes the other. For infants, atopic dermatitis and cow milk allergy often are linked.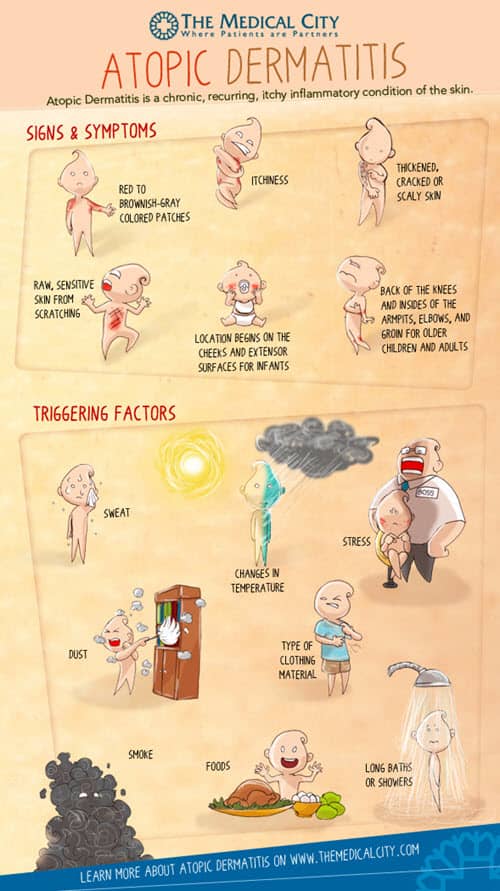 Contact Dermatitis
Contact dermatitis describes a situation where some substance makes contact with the skin and causes it to become red or inflamed. This symptom could be anything from food to laundry detergent or lotions. Your little one's healthcare team can help you narrow down the possibilities and make changes to remove whatever's causing this type of dermatitis. If food is a cause, you'll need to keep your little one from coming into contact with the food and cosmetics with ingredients from that food. Symptoms and treatments of contact dermatitis.
Diaper Rash as well as baby rashes?
Diaper rash happens when an outbreak occurs on parts of the skin in contact with diapers. Some causes include having wet diapers on for too long when the infant has diarrhea, or diapers are too tight. The introduction of new clean products triggers a rash, for example, if you are using cloth diapers — symptoms and treatments of diaper rash.
Eczema
Eczema is a generic term for any dermatitis or skin swelling or itching. Learn more about eczema. It's often used to describe atopic dermatitis – see above! 
Hives
Also called urticaria, are red, itchy bumps on the skin, often caused by an allergic reaction to a food or a drug. These hives can vary in size and can at times connect to create a more significant swelling. They often go away within 24 hours but are still no fun. It's important to avoid whatever substance or food triggers hives. Symptoms and treatments of hives.
Rash – Baby rashes 
A rash is a generic term that describes some itchiness or irritation of the skin. Your doctor would be the best resource to look and narrow down what a rash represents and what might be causing it. For little ones, their pediatrician may decide to refer you to an allergist and a dermatologist.
When is a Baby Rash a Milk Allergy?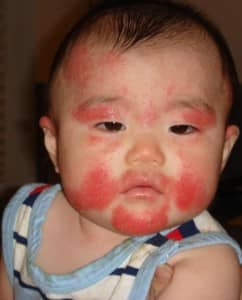 May you be wondering can dairy cause diaper rash? You should always refer to your pediatrician to help you understand what is causing your little one's outbreak, but it's also essential to look at the big picture. Sometimes a baby with a cow milk allergy will also display other symptoms in addition to the baby rashes. For instance, you may also see signs of diarrhea, vomiting, gassiness, wheezing, runny nose, and colic.
If you do see a rash accompanied by any of these other symptoms, make sure to keep detailed notes and share all signs with your little one's doctor so that the healthcare team has all of the information to get to the bottom of what might be happening.
Work with your pediatrician
Also, make sure to work with your pediatrician to come up with a plan for taking care of your baby's skin – no matter what is triggering the rash, it is essential to consider possible steps to alleviate the rash and any discomfort. Some reasonable steps your little one's doctor might suggest include:
Bathing your baby in soothing lukewarm water helps with baby rashes
Avoiding scented soaps, bath oils, and perfumed powders
Applying an over-the-counter moisturizer to your baby's skin
Keeping your baby's fingernails filed short and smooth to minimize damage from scratching
Using cotton mittens to help prevent scratching
Dressing your baby in soft cotton fabrics to avoid possible fabric irritation
Keeping your baby fresh and avoiding hot, humid environments
Trying to keep your baby distracted from the itchiness with fun activities
We've told you what we know about various common skin conditions that you might see on your little one. Keep in mind; there are other conditions that can cause skin rashes, including multiple infections. Even with this info, you probably still have questions and want answers! The next step is to discuss them further with your little one's healthcare team. Make sure you plan, take notes, and ask the right questions when you see your doctor.
-Rob McCandlish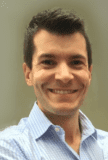 Rob McCandlish is a registered dietitian nutritionist (RDN) who joined the Nutricia team in 2010. McCandlish has years of experience at Nutricia following food allergy research, working with Neocate products, talking with Neocate families, and learning about the science behind Neocate and food allergies. Rob has two nephews who both used Neocate for their cow milk allergies!
Published: 04/18/2017