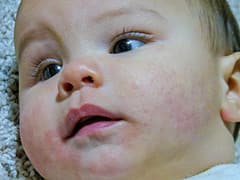 If you are using Neocate with your little one, you may be familiar with eczema, an uncomfortably itchy rash often associated with food allergies.  Fortunately, when eczema is related to a food allergy, transitioning to Neocate helps address part of the problem by providing a hypoallergenic source of nutrition.
However, for some children it can still take some time after starting Neocate for eczema to completely resolve and in the interim you may have a very unhappy baby on your hands. Also, for some children eczema can flare up from environmental triggers. What to do? Mother Nature has a few tricks up her sleeve that can help bring relief to your little one (and you!). Ask her healthcare team if any of the following suggestions could help:
Oatmeal Bath: Oatmeal has skin-softening properties to soothe and moisturize irritated skin. To make the bath, fill a sock with oatmeal (use gluten-free oats if your child is sensitive to gluten), and place the sock over the faucet so the water runs through the oatmeal, creating a couldy oat bath to relax in. For an even easier bath, purchase colloidal oatmeal powder to add to bath water. Oatmeal baths are also wonderful for dry winter skin.
Chamomile Tea Bath: Chamomile flowers have anti-inflammatory properties that can help relieve skin irritation. To make the bath, brew a strong cup of chamomile tea and add to bath water. However, if your child has seasonal allergies, chamomile may not be suitable because it is a member of the ragweed family and may trigger a reaction.
Cucumber Compress: Have your little one be cool as a cucumber with this naturally soothing veggie! If eczema is isolated to a small area, place sliced or shredded cucumber onto the affected area to help cool the skin and temporarily relieve itching.
Calendula Cream: Calendula is another flower that has anti-inflammatory and antiseptic properties and has traditionally been used to treat skin irritations. Calendula creams can be found at most natural food stores.
As always, discuss home remedies with your healthcare provider to ensure that it is appropriate for your unique child.
Do you have your own home remedy for soothing eczema? We would love to hear about it!
-Irene
Published: 08/02/2012