Allergy-friendly play-doh is great for your kids to safely have fun. Did you know that Play-Doh was originally a wallpaper paste that became popular due to its ability to be molded into a variety of shapes? It originally came in 3 colors – red, yellow and blue – from which many other colors could be formed. Now Play-Doh is available in over 50 different colors!
 Play-Doh may not be a suitable option for a modeling compound. Don't despair; our team took on the challenge of compiling allergy-friendly play-doh recipes you can make at home with your family.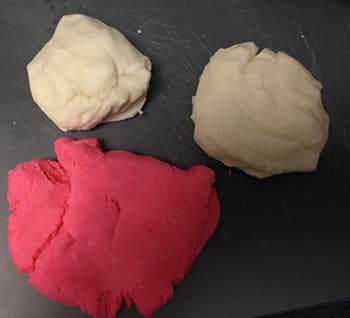 This recipe is an allergy-friendly paly-doh adaption of the Arm & Hammer Play Clay recipe
Ingredients:
2 cups baking soda
cornstarch 1 cup
1.5 cups water
1 tablespoon oil
Directions:
Mix ingredients together in a sauce pan and heat over medium heat, stirring constantly. If you have older kids, they may get a kick out of doing this part.  During the heating process, baking soda makes the mixture fizz for quite a while before it starts to thicken. When it starts to thicken, beware! It goes really fast.
Take the mixture off the heat as soon as it's thick enough to start wanting to stick together. Let cool, partially covered until it can be handled.
Next comes the fun mixing part. If you want your mixture to come in different colors, separate into balls and start adding your favorite food grade colors. I used Wilton®** icing gel colors left over from my cake decorating days and really loved the results. Beware – the icing colors may stain your hands but can be easily removed with a baby wipe.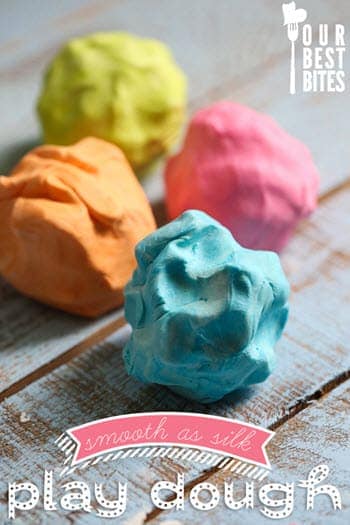 This silky-smooth 2-ingredient play dough can be made in just a few minutes with stuff you already have in your house–hair conditioner (or lotion) and cornstarch!
Ingredients:
2 cups cornstarch
1 cup hair conditioner or lotion (don't use the expensive stuff, but I recommend something that is either scent-free or a scent that you/your kids like)
Directions:
Place the cornstarch in a large bowl.
Mix in the beauty product of your choice with your hands–it will just start coming together and it will be pliable and very, very smooth.
You may need to add more conditioner/shaving cream/lotion as you go. Use food coloring to color as desired. Keep covered when not in use.
Some tips from our mixing experiments:
For this recipe, don't use the expensive hair condition or lotion. Additionally, we recommend something that is either scent-free or a scent that you/your kids like. Bonus, if you decide to use a lotion for this mixture, you might notice very soft hands!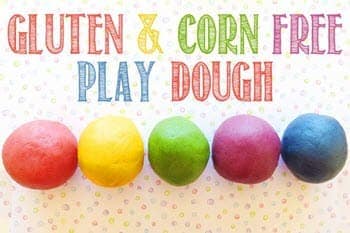 Ingredients:
1 firmly packed cup brown rice flour
1 cup water
1/2 cup salt
1 Tablespoons oil
1 Tablespoons cream of tartar
Food coloring as desired
Directions:
Place all ingredients into a medium sized saucepan.
Stir continuously over a medium heat until the mixture congeals and forms a ball, approximately 3-5 minutes. Continue to turn the ball over on the heat for another 1-2 minutes.
Remove from the heat and turn dough out onto a board or bench top.
Allow to cool completely and then knead until the dough is smooth. Sprinkle with a little rice flour as you knead if the dough feels at all sticky but be sure to only add a little at a time to prevent your dough drying out.
Hints & tips for allergy-friendly play-doh:
Although it can be difficult to wait, I find so often when cooking with alternative flours it's best to let the mixture cool before handling. Waiting allows the ingredients to bind fully.  One way you can speed up the cooling process is by breaking the mixture into smaller pieces.
Liquid food coloring can be added to the pot or kneaded into the cooled dough. It's best to add your coloring one drop at a time. Doing so will help you achieve the desired color and may help to keep the dough from getting too sticky. If you find yourself in the situation where your dough did become sticker than anticipated, adding a bit more rice flour may help.
Store play dough in an air tight container or wrapped tightly in a plastic bag.

Allergy-friendly play-doh for younger children who may want to eat the playdough!
As an added bonus, it's super easy to make.
Ingredients:
1 cup sunflower seed butter (Sun Butter Spread)
1/3 cup maple syrup
 2/3 cup arrowroot powder ( or organic corn starch)
Directions:
Mix all ingredients together and play!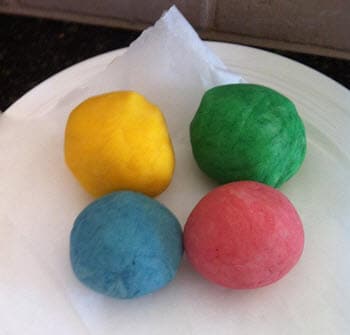 Ingredients:
1 1/4 cups rice flour
1/2 cup salt
2 tsp cream of tartar
1 cup water
1 Tbsp oil
1/4 tsp vanilla extract
food coloring or sparkles (optional)
Directions:
Mix flour, salt, and cream of tartar in a large pot. Add water and oil.
Cook over medium heat until the mixture pulls away from the sides of the pan (about 5 minutes), stirring constantly.
Add vanilla extract (for smell, not taste). Mix thoroughly. Put play dough on a clean surface. When cool enough to handle, knead lightly.
Store in airtight container.
Add food coloring to the water to make colored play dough. Add sparkles during the hand-mixing time for sparkly play dough.
– Ellen
*Play-Doh is a registered trademark of Hasbro™ and not affiliated with Nutricia North America
**Wilton is a registered trademark of Wilton Products Inc. and is not affiliated with Nutricia North America.
You can find more allergy-friendly recipes in our blog
Published: 09/16/2016