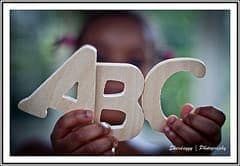 'Tis the season for back to school. While this can be exciting for many students and parents, there can be added anxiety for those dealing with food allergies. Besides the typical hustle and bustle associated with getting school supplies ready, food allergies require some extra preparation to assure a smooth and safe school transition. Assembling a variety of care plan documents, Bringing allergy-related supplies and Communicating with school administration, teachers and other students is essential for making this process as easy as A-B-C .
A is for Assembling of care plan documents.
It is a good idea to notify the school prior to school starting and ask to meet with school administrative staff and the school nurse to discuss and develop care plans to ensure food allergies and health are well managed while at school. These should identify the types of responsibilities, training and services required for keeping school safe and addressing emergencies should one occur. The three most common plans used for food allergic children are known as Emergency Care Plans (ECP), Individualized Healthcare Plans (IHCP) and 504 Plans. The following are good sources for becoming educated on these and offering sample templates as well.
Kids With Food Allergies (KFA) offers both video and print resources related to care plan topics.
This resource addresses four sample plans: protocol and procedure for allergy management in the classroom; ensuring trained individuals for epinephrine administration; defining the allergy disabilities; and food policies for classroom and cafeterias.
This two part video series includes both a What Parents Need to Know video and a Question and Answer video… along with additional tips, resources and links for parents on the website.
The National Association of School Nurses (NASN) worked with the Center for Disease Control and Prevention (CDC) in creating comprehensive guides and resources for both the school communities and parents.
B is for bringing allergy awareness supplies to school.
Besides hand sanitizers and sanitizing wipes to reduce the risk of surface allergen contamination, other items might be worth consideration too. Here are some suggestions for allergy-related gear and allergy-safe foods.
Safety tattoos may be a good idea, especially at the beginning of the school year and for younger students until the school staff becomes familiar with your child's food allergies. These are tattoos that you would put on your child prior to an outing that can't be lost or washed off during a short period of time.
Medical alert bracelets are a good idea for those with severe food allergies as they are helpful for EMT personnel if there is an emergency.
Re-usable wraps that hold a sandwich and then unfold to become a place mat while eating
Lunch boxes with food allergy information printed on them as well as tags and stickers 
Allergy-friendly snack ideas that are food allergy-friendly
C is for communicating food allergy information to everyone.
Parents need to know as much as they can about their child's food allergies in order to share this with school staff. It's also good to work with your child so they knows their food allergies and can self-manage them when you feel they're ready. Having information to share with your child's classmates can help friends understand and be supportive. Here are some resources to help in these areas.
The following books are good for teaching younger students about allergies.
Food Allergies and Me: A Children's Book by Juniper Skinner
The Bugabees: Friends with Food Allergies by Amy Recob
The Peanut Pickle: A story about Peanut Allergies by Jessica Jacobs
The Food Allergy Resource and Education (FARE) website has age-specific materials for kids of all ages with food allergies.
University of Utah Medical School offers an online program called A Shot to Live geared to teachers; this is also good for others too and includes videos on use of epinephrine auto-injectors.
The extra time, effort and energy of preparing for child with food allergy to return and/or start of school can make a world of difference in avoiding food allergy mishaps. It's a matter of your ABCs.
_________________________________________________________________________________
Finally, here are two more resources related to heading back to school with food allergies worth considering:
FARE is a great go-to organization for multiple helpful resources. Need an allergist? Newly diagnosed with food allergies? Need materials in Spanish? The information here is downloadable and can be distributed as well. Check here for assistance on what to do on field trips, extracurricular activities and transportation issues too
KFA offers a guide containing a list of food allergens that can be found in unexpected places such as food used in science or math lesson plans, crafts, and cooking classes. Alternatives and precautions are suggested. Take note that ingredients may change so it is best to contact and verify these with the manufacturers.
What tips do you have for other families managing food allergies as they prepare to head back to school?
-Jody L. Benitz, MS, RDN
Published: 08/13/2015