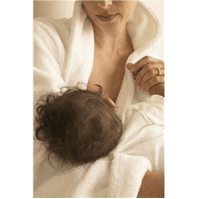 Some little ones, like Rachel's son Baby E from our guest post last week, are allergic to the dairy proteins passed along in their mother's breast milk.  This can often result in a cow's milk allergy and a confused mom.  Fortunately this doesn't mean the end of breastfeeding, but rather the start of an elimination diet.
When starting an elimination diet the breastfeeding mom removes all dairy including "hidden" dairy from her diet.  Because this can be such an adjustment, it's important to make sure both mom and baby get the nutrition they need, so we recommend having the supervision of your doctor for this diet.
Keep in mind, children being not breastfed will also need to go on an elimination diet if diagnosed with a food allergy.  Any elimination diet will need to be supervised by a Registered Dietitian to ensure all the important nutrients are being met in the diet.  Studies show that children on elimination diets are often lacking in Protein, calories, Vit D, and Calcium.1
In addition to our blog, recipes and cookbook, once you begin your elimination diet we recommend checking out these great websites for more information and recipes. 
Hopefully you'll find these resources helpful and not just for eliminating dairy but also for eliminating the top eight allergens including egg, peanuts, tree nuts, fish, shellfish, soy and wheat.
If you're already on an elimination diet what do you think of these websites?  Do you have any other websites you'd recommend?
– Christine
Published: 06/14/2011