Valentine's Day is a fun holiday for kids, and most schools have some kind of celebration. Many students share valentines, candy and other treats. But for a child with food allergies (and their parents), this day can be stressful. You want to ensure your child stays safe from potential allergens while making sure they get to enjoy all of the fun. Here are some ideas for a safe and fun Valentine's Day celebration!
Preparing for Valentine's Day with Food Allergies
If your child is still in school, start out by reminding your child's teacher(s) of food allergies ahead of time. If valentines are going to be exchanged or a party is planned, the teacher can help share information with other parents to ensure that everyone remains safe from potential allergens. Feel free to offer to send a "safe" treat in with your child if they won't be able to enjoy other foods.
Try the following Neocate recipes:
Want another idea? Consider an alternative that isn't centered around food. This way, the celebration isn't totally focused on candy and treats.
Here are some alternate goodies and activities to keep your kids in the festive mood, brought to you by Kids With Food Allergies:
Exchange valentine-themed pencils, stickers, pencil sharpeners, and other trinkets. (Look in dollar stores, local pharmacies and big box stores.)
Allow children to design and create handmade valentines for classmates, teachers and family using construction paper, paper doilies, glitter, glue, stickers, lace and other craft materials.
Make paper flowers from tissue paper and pipe cleaners.
Cut out paper hearts and attach to string to make garland for the classroom.
Allow children to decorate a mailbox or paper bag to use to collect their valentines.
Have the class work together to decorate a bulletin board or the room door for Valentine's Day.
Create origami hearts.
Make small heart stamps out of erasers.
Make friendship bracelets for classmates to share.
Make little critters from pom-poms, felt, pipe cleaner and googly-eyes.
Create thumbprint or hand print valentines.
If your child is going to a friend's house for a Valentine's Day party, make sure to check in with the hosts to make sure they are aware your little one has a food allergy. If possible, ask what will be served ahead of time. Remind your child that they should keep an eye out for allergens: even if a party has a menu, there's no guarantee other parents won't send unplanned treats.
Hosting Allergy-Friendly Parties
Are you a teacher? If so, remember that the safest valentine for a child with a food allergy is one that doesn't include candy. You may find it easiest to institute a "cards only" rule if valentines are exchanged. A Valentine's Day party can be great without the snacks by involving fun games or crafts. You could also keep the food and ensure it's safe by purchasing or preparing snacks yourself that you know are okay and instituting a "no treats" rule for parents.
If you're a parent who's hosting a get-together for some of your child's playmates, it's best to ask other parents ahead of time about food allergies. Other parents may be more than happy to contribute allergen-free foods to the menu, or you can forego food altogether and host the party away from mealtime with some fun activities instead.
Giving Allergy-Friendly Valentines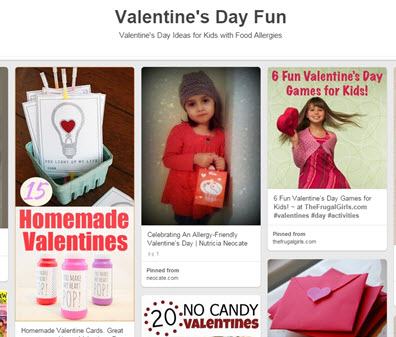 Whether your child has a food allergy or not, make sure he/she is giving valentines that are safe for other students in their class who may have an allergy of their own. Lots of valentine multi-packs include candy, which most kids enjoy. However, to keep the valentines your child hands out safe,  consider sprucing up a "traditional" card-only valentine. You can add to the "cool factor" by including valentine-themed temporary tattoos, stickers, or other approved favors in place of edible gifts.
Also consider family-friendly activities that don't involve food. Finally, a t-shirt, game or even small vase of flowers could be the surprise gift your child wasn't expecting!
For more fun activities, be sure to check out our Neocate Pinterest page. We have an entire board dedicated to Valentine's Day fun, including heart wreaths, Valentine's Day card ideas, Valentine's games for kids and more!
What tips do you have to keep Valentine's Day worry free?
*These allergy-friendly recipes are free of the most common allergens but as always, double check to make sure all of the ingredients are safe for your child.
Published: 02/11/2017