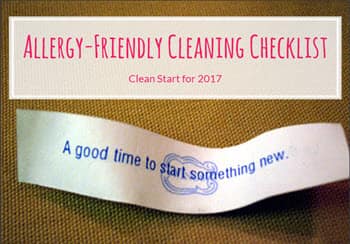 It never seems to surprise me how fast time passes. Yet here we are at the beginning of another promising year.
A new year brings a fresh start for many of us, so why not start the year off right with a clean start at home? Perhaps some home cleaning will help you start this year year by making progress towards a resolution for the New Year, or just help you clear out some clutter from the previous years. Or maybe your family also has seasonal allergies in addition to food allergies. This may help you reduce pollen and allergens for your family.
Here are some general tips and a check list to get your household off to a clean start! Even a bonus section on tips to get your kitchen in order for a wonderful year of allergy friendly meals the whole family will enjoy.
General Tips:
Clean from Top to Bottom: One tip I have always found helpful from my first real job in a restaurant is to always clean top to bottom. Some see this as a great strategy for organizing yourself and cleaning from the top floor down. I have always found this strategy especially helpful to save time by cleaning from the top of the room down to the bottom and prevent cleaning an area twice.
Pre-Treat: For tough to clean areas such as a spot in the carpet or areas of the bathroom not often addressed, you can spray the area with the desired cleanser and let it sit and pre-treat the area while you clean elsewhere. For example, spray the cleanser on the carpet spot and let it sit while you perhaps dust the room or pick-up elsewhere. Then once the cleanser has had time to pre-treat and loosen the grime it is easier to clean and much less time scrubbing the area.
Recruit Help: Cleaning can be a bit more fun and much faster if it becomes a family affair. Enlist the help of the whole household to help you conquer these tasks while also making it a quick day. Then you can celebrate your hard work with a fun event or relaxing family night together. Truly a win-win.
If you want any ideas on a fun and allergy friendly activity to plan for family night then you might want to check post about DIY Allergy Friendly Play-Dough Recipes. 
Check List:
Here is a quick check list of items that you will want to include when setting your game plan to get a clean start. Items that are often overlooked on a regular cleaning basis that will help you feel that your hard work has made a difference while also reducing potential allergens like dust and pollen in those areas less addressed.
Clean Walls: Cleaning the walls, and if you are feeling adventurous the baseboards also, can help reduce allergens and make a big difference in the look of your home. No need to re-paint for a room face list; a quick clean of the walls can provide the same bright new look. You may want to start with a quick wall sweep using the vacuum attachments. Then wipe with a clean damp cloth or all-purpose cleaner to do the trick. Make sure to pick an all-purpose cleaner that is appropriate for the paint or other coatings on your home walls. Don't forget to clean the light switch on the wall.
Wash Curtains: Along with washing the walls, washing any curtains or window treatments will also help to reduce allergens and brighten up your rooms. Many are machine washable so throw them in the washer and by the time you are done washing the walls the curtains will be clean, dry and ready to go. A quick dust and wipe with a damp cloth for any blinds will make your wall cleaning complete
Clean Light Fixtures: This will help make those lights shine a bit brighter to help get your family through these last few months of short daylight hours. Remove any shades, light covers, or globes and wash and then wipe the bulbs and light fixture with a damp cloth and voila!! You will have a bright shining light fixture to brighten that room.
Purge & De-clutter: This step can be more time consuming, but a new year is a great time to get rid of items you no longer need. A good rule of thumb is to donate or discard anything that you have not used in the past year. I have to admit that I am a bit more conservative than this, but certainly that clothing item that you have not worn in a few years may be ready for donation. Donating items from your office, living room, attic and/or garage can be a great way to make some space and de-clutter items that you no longer need or want. You will be amazing how clean & organized a room can look once some excess items are removed.
Bonus, 3 Easy Steps to Allergy Friendly Kitchen Cleaning:
Want to get your kitchen in order? Well here is a bonus section just for you.
Of course a kitchen deep clean is always a good idea at least a few times a year to keep appliances in good working order and clean those hard to reach places in likely one of the busiest and messiest spots in your home. Cleaning the shelves of the refrigerator, oven cleaning and such is something that is often recommended on a regular basis. Let's look as some tips to clean up the actual food items and be prepared with easy, allergy friendly meal prep ideas for the coming year.
De-Clutter: Go through the pantry and get rid of items that are expired, or no longer used. Anyone with a diet restriction in any way has a stock of products they have tried and did not work for them. And just about every kitchen has plenty of items in the pantry that were not used or you did not like for one reason or another. Well time to make some space and toss or donate them if they are not yet expired.
Eliminate Hidden Allergen Ingredients: Now that you have cleared out the obvious items in your cabinets and cupboard that do not work for your family, it is time to take another look. This time get rid of anything with hidden allergens that do not work for your family. Not sure where to start? Well this post should help you find hidden dairy ingredients.
Allergy Friendly Meal Planning: Now that you have made some space you can begin preparation for meal planning. Not sure where to start to plan allergy friendly meals this coming year, well the Neocate team had you covered there as well. Check out 10 Tips for Allergy Friendly Meal Planning. Or perhaps ideals to help you Make Mealtime Fun is what you need to get your year started on the right foot. And for your families that need ideas to get the whole family involved, 5 Food Allergy Friend Meal Planning Tips for the Entire Family.
What are you and your family doing to get a clean start in 2017? Have any suggestions you want to share with other Neocate families? Let us know in the comments below.
–Kristin Crosby MS, RDN, LDN
Published: 01/18/2017