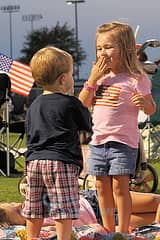 Like most holidays, fourth of July celebrations involve a variety of tasty foods. When your little one has food allergies, it can be difficult to find tasty snacks that are allergy-friendly and can be enjoyed outside amidst the festivities. For today's post, we've collected some allergy-friendly recipes that your kiddo will love!
Please note that these recipes are allergy-friendly (that is, free of the top 8) but not necessarily allergy-free so please look over the ingredients carefully and check with your child's health care provider if you are unsure if it's safe for your child.
What's more American than cornbread? The FARE blog recently posted this Fourth of July Western Cornbread recipe– it looks delicious! (and you could reduce or eliminate the chili powder for young kids)
And speaking of corn, grilled corn-on-the-cob is hard to beat! This recipe just calls for corn and olive oil, but if olive oil is off limits, you could always skip it or replace it with another vegetable oil.
Frozen drinks are refreshing for beach days and BBQs. Here are some of our favorite frozen recipe ideas. To really set the summer vibe, serve these in a beachy cup, use a fun straw and maybe even top it with one of those cute little drink umbrellas to make it extra special.
Frozen ice pops are another refreshing treat on hot days. With freezer molds, you can make ice pops with just about anything. Many parents make them with Neocate Splash or Neocate Junior blended with a favorite fruit. You can also try our Neocate Strawberry Nutra Frozen Ice Pops recipes.
If your party animal can't bear to break for a meal, a cooler with a few boxes of Neocate Splash might come in handy on the beach, at the parade or at the firework show!
We hope your family has a fun and safe 4th of July!
-Mallory West
2018 UPDATE: Please note Neocate E028 was replaced with Neocate Splash.
Published: 07/03/2014