Nutricia North America is launching Neocate® Splash in the USA, the first and only hypoallergenic amino acid-based ready-to-feed formula that is designed to help meet the complete nutritional requirements of food allergic children over the age of one.
At Nutricia North America, we work hard to make sure that your child receives the best possible nutritional support. Towards this goal we introduce new products to provide your family with great options based on the latest medical and scientific knowledge.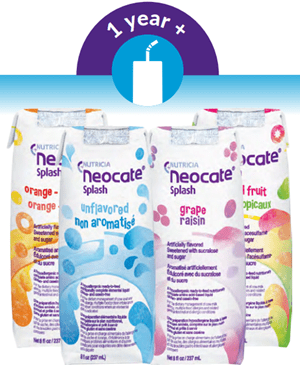 What is Neocate Splash?
Neocate Splash is a range of amino acid-based nutrition for individuals over the age of one. This range is
✓ Hypoallergenic
✓ Nutritionally complete
✓ Ready-to-feed
✓ Available in 4 great tasting flavors
✓ Ideal for oral and tube feeding
This great new product is indicated for the dietary management of cow milk allergy, multiple food allergies, and related GI and allergic conditions, including eosinophilic esophagitis (EoE), food protein-induced enterocolitis syndrome (FPIES), short bowel syndrome (SBS), malabsorption, and gastroesophageal reflux (GER).
This product has a unique nutrient profile, based on that of Neocate Junior, to provide complete nutritional support.
The 3 flavored products are NEW additions to our Neocate Splash range. They are fully replacing our range of Neocate E028 Splash. Neocate Splash, Unflavored remains unchanged and available. See this short video to learn more about our latest innovation: