This winter try out our allergy-friendly French toast and pancakes.
French Toast
2 Pieces of spelt bread
1/4 cup of soy milk
Dash of cinnamon
Combine milk and cinnamon. Dip and coat the bread lightly in the soy milk mixture. Place on preheated skillet on low-med heat. You will have to cook it longer to ensure the soy milk dries and the toast isn't mushy.
Per 2 pieces
Calories: 250
Protein: 10g
Carbohydrates: 44g
Fat: 5g
Submitted by: Katherine Kennedy
Pancakes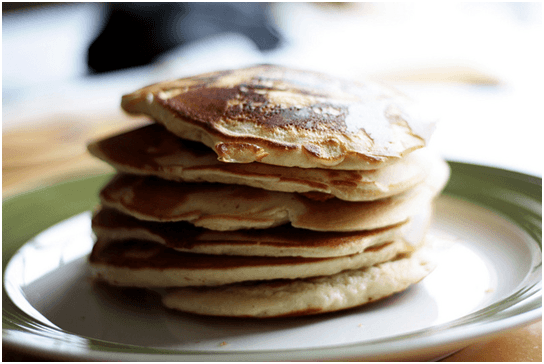 2/3 cup of rice flour
1/4 cup of water
Pinch of salt
2 Tbsp of sugar
1 1/2 Tsp of baking soda
Mix all ingredients together. Heat oil in a skillet on stovetop. Pour about 1/2 of mixture onto hot oil. Cook a few minutes until firm then turn over.
Makes up to 4 pancakes
Per 1 pancake
Calories: 120
Protein: 1g
Carbohydrates: 26g
Fat: 0g
Submitted by: Sophie Jakovich
Please check each recipe to be sure all ingredients are safe for your child.  If you have any questions, please consult with your physician.
Please note that spelt is a relative of wheat, so may not be appropriate for individuals with wheat allergy or gluten sensitivity.
Also, to get more food allergy recipes, download our Food Allergy Cookbook!
FRENCH TOAST IMAGE SOURCE
PANCAKE IMAGE SOURCE
Published: 12/31/2011