Keeping your baby's food safe is always a priority. Being a parent is arguably the most relevant job we will ever come across! We make sure everything in our home is safe for our little bundles of joy to sleep, play, eat, and explore. At times it can be stressful and challenging, especially when your child has a food allergy. Safety is often the first thought on any parent's mind, and food allergies can amplify any safety concern you might have as a parent.
Here are three easy tips to sharpen your food allergy safety skills and keep your baby's food safe.
Moms Breastfeeding Their Infants: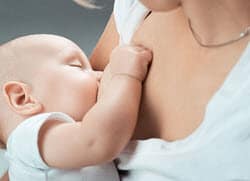 Great job to all you breastfeeding moms out there! You are providing your baby with the best source of nutrition, and the first choice of healthcare professionals worldwide.
Breastfeeding is a beautiful and intimate time between mom and baby. As is typical of all good things, it is also time-consuming and a lot of work. So, Great job! to all of you who have eliminated suspected allergens from your diet to support your little one!
Tip #1, for Lactating Moms: Make sure to read food labels carefully. There are often "hidden" ingredients that contain the allergens you are trying to avoid. Let's look at cow milk, for example, the most common food allergen for little ones. If you are following an elimination diet to remove milk due to a cow milk allergy, then ingredients such as casein or whey will also need to be avoided. Look at ingredients for everything you consume, including any vitamins, mineral, supplements, or medications to avoid consuming allergens.
Read more on finding hidden food allergens when reading labels.
Keeping baby's food safety. Parents Using Neocate Formula:
Perhaps breastfeeding was not an option for your family, or you were unable to continue to breastfeed your infant for one reason or another. Great job! To those of you who use Neocate to ensure your child grows and develops.
You must take the same steps for safety you take when cooking for your family when preparing formula. These steps are especially true when your baby has digestive conditions, is not gaining weight as expected, or struggling with an illness.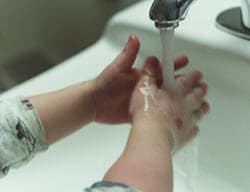 Tip #2, for families, Using Neocate: Follow all safety and sanitation recommendations when preparing Neocate. Make sure to sanitize all bottles and nipples as directed by your healthcare team. Keep surfaces clean and use proper handwashing techniques – a must when preparing any formula to ensure your little one with food allergies consumes formula that has been safely made.
Many parents call us to inquire about our recommendation to use sterile water. While it is ultimately up to your healthcare team to determine what is best for your infant, the use of sterile water is our recommendation. We, the Neocate team, put your families' safety and health first!
If you want to learn more about how to prepare sterile water, or why we include that recommendation for preparation of our infant formula, you can read this blog post all about those very topics in our blog post To Sterilize or Not to Sterilize. For more general information on the proper storage and preparation of Neocate, review information on the back of your product can or look over product information listed on our site. 
Family, Friends, Neighbors, and keeping your baby's food safe:
They say it takes a village to raise a child. I know I was lucky enough to have a very close family with friends and neighbors available to me as my village of support when growing up. I am still grateful for their love and support, and I imagine many of you are in the same boat as you raise your children and keep them safe with food allergies.
Way to go! I will also add a sincere thank you to all of you out there who is a vital member of the village when caring for the special little ones in your life, and especially any children with food allergies. Your support and time to make sure you know what is needed to keep children with food allergies safe are vital to their success, and no doubt deeply appreciated by their parents.
Tip #3, for the Extended Village Members:
Take the time to get to know the details of your loved one's food allergies, including what is needed to provide them with the care and love they need while keeping their food safe.
Education is always essential for extended family, friends, and neighbors who will support your loved one with their food allergy. Your village needs to be in-the-know, so they are ready and prepared to help you whenever needed. Make sure to have those food allergy and general food safety conversations early. Write down some tips and must-know points to help your relatives deal with your child's food allergy.
Not sure how to have that conversation, or what they might need to know? Well, no problem! Those of us here at Neocate has got you covered. Here is a post about the signs and symptoms of a cow milk allergy, or perhaps this one all about explaining food allergies to relatives will help you and your family at the moment. Here is one more about talking to your toddler about food allergies that I recently wrote as well, in case this is what is weighing on your mind these days.
Do you have any suggestions on how to keep your baby's food safe?  We'd love to hear from you! Share your thoughts or ideas in the comments below.
–Kristin Crosby MS, RDN. LDN
Published: 01/05/2017