Today's post will go a bit further into explaining the product Duocal as a follow up to our "Failure to Thrive: My child is underweight, what should I do?" blog. It may be a good option for a child with failure to thrive (or FTT) as well as other conditions such as multiple food protein intolerance and conditions related to food allergies such as Eosinophilic Esophagitis (or EE), Gastroesophageal reflux disease (or GERD), and Atopic Dermatitis (or AD).
What is Duocal?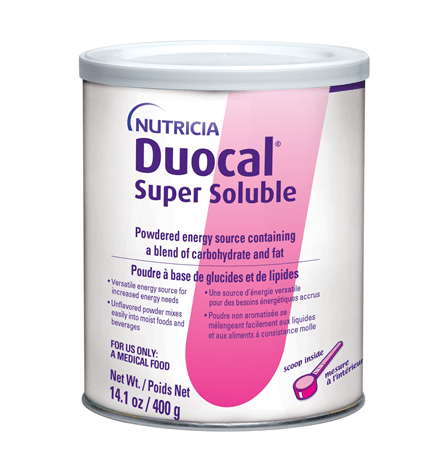 Duocal is a high calorie, protein-free powdered medical food that can be added to foods or beverages when additional calories are needed to gain adequate weight. Keep in mind that this product is not a formula and should not be used as a sole source of nutrition.
Duocal is:
Made up of carbohydrates and fats.
Flavorless and super soluble – there are no changes to the taste and/or texture of the food it is being added to. This could help with diet compliance.
The Duocal 400g can comes with a scoop which provides about 25 extra calories per scoop.
How is Duocal Unique?
The reason Duocal is unique is the fact that it does not contain proteins. This is important for a child who needs extra calories due to Failure to thrive or weight loss secondary to severe food allergies (keep in mind; only proteins can cause an allergic reaction).
Duocal is 100% milk free and is made in a milk free environment to ensure tolerance. Duocal is for children ages 1 and over. The amount of Duocal you or your little one may need per day is to be determined by your doctor or dietitian. The amount needed per day really depends on what the specific nutritional needs are for the patient. Duocal is for children ages one year and older, so it can be used throughout ones life stages.
How to mix Duocal with foods?
Duocal is flexible in it's usage and can be mixed with a wide variety of foods. Here are some quick tips on how to use Duocal to get you started. Please note these quantities are approximations, please check with your doctor or dietitian for exact amounts. When using
Beverages: Add 2 scoops of Duocal per 4 fl oz.
Toddler Foods: Add 2 scoops of Duocal per ¼ cup of food.
Mashed potatoes: Add 3-4 scoops Duocal per ½ cup of mashed potatoes.
Soups: Add ~6 scoops of Duocal for a 16 oz serving (or one can) of soup.
Have you tried Duocal before? What kind of recipes did you make with it? We are always excited to hear of new ways to use Duocal in helping patients thrive.
–Christine Graham-Garo
Published: 02/16/2010