The sun is out, the weather is warming up and it's time to open your windows to the sun and beautiful spring. But if you or a family member suffers from seasonal allergens, then some serious spring cleaning is on the horizon for you. Whether you like this process or not, it's necessary for allergy sufferers. While it is impossible to make your home completely allergen-free, below are 10 tips to clear most of seasonal allergens from your home:
A well-ventilated house and non-leaking ductwork is the first vital line of defense against allergens. Use HEPA (high-efficiency particulate air) filters in your air-conditioning systems and vacuum cleaners. Don't forget to change filters in air conditioners, vacuum cleaners, vent registers, air purifiers and dehumidifiers.


Dust is the most common trigger of seasonal allergy symptoms indoors. Use a wet or treated cloth that attracts dust, minimize dust-catching clutter and clean dusty surfaces regularly so that dust doesn't have a chance to accumulate.


Vacuum your house thoroughly, reaching every nook and corner. Try to vacuum your house at least once or twice a week. We suggest using vacuum cleaners that don't require frequent filter changes. When you do change the filters, try to do it outdoors if you notice clouds of dust coming from the dirty filter!


Clean the clutter from your house. The less stuff in your house, the fewer places for allergens to hang out.


Dust mites thrive in bedding. At least once a week, wash pillowcases, sheets, and blankets in very hot water and dry them in a hot dryer to kill dust mites.


Your bathroom is to mold what your bedroom is to dust mites. Be sure to fix any leaks and clean walls with a nontoxic bathroom cleaner. Run an exhaust fan after you take a shower to remove humid air, and replace any bathroom wallpaper with tile or mold-resistant paint.


If you have pets, vacuum frequently and wash your pet once a week.


Keep your windows closed when pollen counts are high: between 10 a.m. and 3 p.m.


Maintain the humidity level in the house at about 40 percent to keep mold and dust at bay.


Get rid of old rags, newspapers, clothes, other porous items that can cling to allergens.
Finally, we want you to be safe from allergens while spring cleaning. Consider wearing an allergy relief mask while cleaning to protect yourself from fumes, dust, and allergens. And check with your healthcare team to see if they have any good tips to share.
We would love to hear from you! What spring cleaning tips do you use that we missed?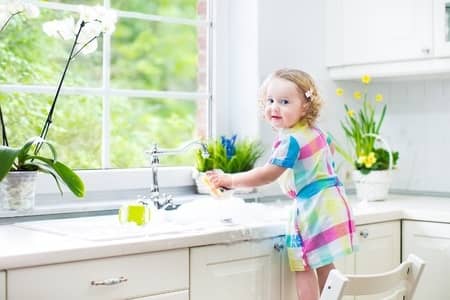 Published: 04/22/2015