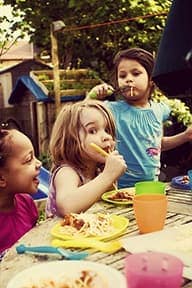 As we enter the new year, it's a great time to resolve to add new foods to your little one's diet. When your child has multiple food allergies, you have to work within the range of safe foods so, as always, if you are unsure if a certain food is safe or not, always consult with your child's healthcare professional first.
Be persistent!
One important thing to remember is that if you don't succeed with a certain food, don't give up on it or assume that your child doesn't like it. A certain degree of "neophobia," or the fear of new foods, is normal for toddlers and young children.
According to Angela Haas, a speech language pathologist and feeding therapist with many years of experience, children may need up to 20 exposures to a new food before they will accept it. So, if the first try isn't successful, continue to present the food occasionally in a non-forceful manner. Eventually, you might be surprised to find that your child accepts and even enjoys it.
Give choices!
Another tip for introducing new foods is to always provide choices so your child feels in control of what they are eating. Instead of saying "You are going to try sweet potatoes today!" give options, like "Would you like to try sweet potatoes or squash today?"
You may choose to present a small amount of several different foods (only those which are allergy-friendly, of course). Include a few familiar, preferred foods and a few new ones that they can choose from. Again, this makes them feel in control of what they are eating and less resistant to try new things.
You may think that children would be overwhelmed by multiple foods at one time but a recent article reported that, on average, children prefer a plate with 7 different items and six different colors.[1] (Adults prefer a plate with 3 different items and 3 different colors!).
Baby steps!
With toddlers and young children, its important not to pressure them to eat a certain food. Give them the option to say "no, thank you" (but not, "eww gross") if they aren't ready to try it. Depending on how resistant the child is to new foods, there are different levels for gradually getting them to accept the food.
You can start by presenting a new food next to other, familiar foods. They don't have to eat it, but they have to allow it to remain on the plate throughout the meal. Continue to present a new food along with familiar foods and allow your child to get acquainted with it. This might mean smelling it, touching it, or even playing with it. Once they are ready, they can taste it. We've always heard "don't play with your food!" but for very young children, the goal is get them comfortable and familiar with a new food, however that may be.
For more tips on expanding your child's diet, ask the healthcare team. Here are some resources which they might have found helpful:
Please remember that these are general guidelines for expanding your child's diet. Always ensure that you only introduce foods that are acceptable for your child's specific food allergies and, when unsure, consult with a healthcare professional.
What challenges do you have with expanding your child's diet? Any tips for other parents?
– Mallory West
Last updated December 2018
Published: 01/19/2012