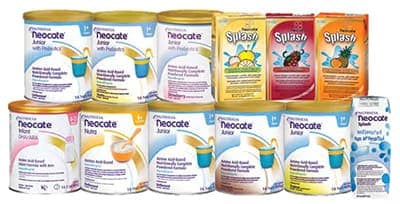 Q: I've found a few cans of Neocate at the back of my pantry that I'd forgotten about. The expiration date was last week, but they're still okay to use, right?
A: We get questions about using Neocate past the expiration date often. Here's what you need to know:
The expiration date
For our powdered Neocate products you can find the expiration date on the bottom of the can. If you're looking at a drink box of Splash, you can find the expiration date on the top of the drink box. The expiration dates on the Neocate family of products follow the standard North American format, which is Month/Day/Year. Technically, the product is good to use through midnight on that date.
How are your expiration dates determined?
The expiration date on any product, not just Nutricia products, is based on several factors. One is the integrity of the packaging materials. We want to ensure they will keep the contents fresh until the expiration date. Another is the stability of the ingredients. For instance, some fats lose quality faster than others – think fresh walnuts versus vegetable oil for cooking. We want to ensure that the product is fresh for the full shelf-life.
A related factor is to ensure that the nutrients in the product are going to be present at the levels printed on the label. Many nutrients, particularly vitamins, have a tendency to naturally break down over time, some faster than others. Especially since many children use Neocate to meet their full nutritional needs, it's very important that the right amount of each nutrient is in the product. We conduct extensive testing under a number of conditions to ensure that the nutrients hold up until the expiration date.
What we recommend
The ultimate intent of an expiration date is to ensure our customers receive quality products containing the nutrients they're supposed to. We cannot recommend using any of our products past the expiration date. Period!
If you have further questions about this, we'd recommend discussing this with your health care team. It may help to provide them with the above information to get their informed opinion.
Published: 12/30/2011