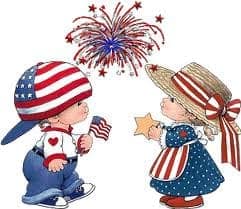 The 4th of July is just a few days away! Nothing is more American than a barbecue on the fourth. Whether you're planning to celebrate with a picnic at home with family, at a neighbor's house, or with a large group, it's important to take steps to protect little ones with food allergies. Here's a collection of blogs that might help you as you prepare to celebrate the Fourth of July safely!
Planning to celebrate away from home or with others? Make sure to read up on our post on picnics, cookouts and trips to the beach. You can find some related tips in the post we shared for holiday parties and get-togethers if you'll be visiting friends or relatives. These tips can be especially helpful if your little one is going to be out of your sight around tables full of potluck foods that could be allergenic.
Looking for some great "safe" recipe ideas? This past post for the Fourth includes recipes that follow the red, white and blue theme! Another idea if your little one has a limited diet would be to mix some pureed blueberries, strawberries, or another red or blue fruit with her/his Neocate formula or Neocate Nutra for a holiday-themed meal. And if you think there's nothing more American than apple pie and ice cream before the fireworks, make sure everyone is included with this great recipe for dairy-free ice cream that includes Neocate Nutra and applesauce.
Whenever you're travelling away from home for more than a day or two, it's good to be prepared for any scenario. Revisit these tips on traveling with Neocate to make sure your checklist is complete.
What tips do you have to keep Independence Day worry-free?
– Rob
Published: 07/02/2014