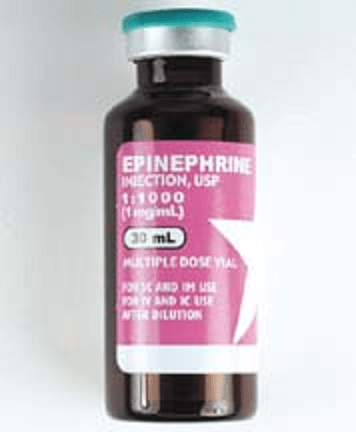 In a recent article published by the American College of Allergy, Asthma and Immunology (ACAAI), a panel of allergy experts and emergency physicians advise that emergency medicine teams should administer epinephrine to any patient they suspect is experiencing an allergic reaction.  This challenges previous recommendations that the decision to use epinephrine should be weighed more carefully.
Epinephrine is considered by doctors to be the first line of defense in an episode of anaphylaxis, or a life-threatening allergic reaction. In the past, medical teams might have hesitated to administer epinephrine to patients unless the patient's reaction met multiple criteria. Now, experts are looking at it a different way.
"The consequences for not using epinephrine when it's needed are much more severe than using it when it might not be necessary," said Stanley Fineman, MD, ACAAI.
Fineman and fellow panel members also say epinephrine should be given to patients at risk of an anaphylactic reaction.  At-risk patients are those who have had a previous severe reaction, or those who have ingested a food known to trigger an allergic reaction. Emergency medicine teams should administer epinephrine regardless of whether symptoms are apparent.
Additional key recommendations to emergency medical teams include:
When in doubt, administer epinephrine.
Epinephrine, in appropriate doses, is safe, and there are no absolute contradictions for its use in treating anaphylaxis.
It is not necessary for the established medical criteria to be met to administer epinephrine.
Patients treated in the emergency setting for anaphylaxis or for severe allergic reactions, or those who are at risk of a future event should be provided with a prescription for epinephrine autoinjectors and an action plan for their use before discharge from the hospital.
Patients should be referred to an allergist to assist with diagnosis confirmation, trigger identification, and continued outpatient management.
Use epinephrine as the first-line therapy for anaphylaxis, for severe allergic reactions, and for mild symptoms following a suspected exposure to a trigger that has previously caused a serious allergic reaction.
As a caregiver, what should you do?
Watching someone close to you have a severe allergic reaction is scary, and preparing in advance is the best thing you can do. Put an action plan in place today, and start by talking to your healthcare team to get their guidance on how to handle suspected allergic reactions. Make sure anyone involved in caring for your loved one also knows the plan. If you believe that your loved one may be experiencing an episode of anaphylaxis, don't hesitate to use epinephrine and call 9-1-1. For more information, you can read the full publication here.
Published: 10/01/2015