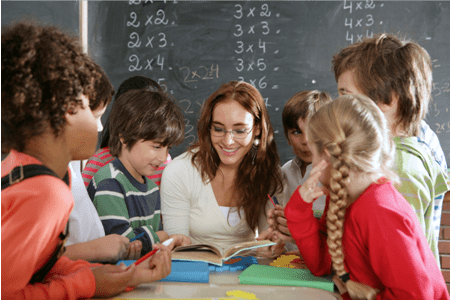 Three million children are affected by food allergies in the US. Studies have also suggested that food allergies persist longer in life than was once previously assumed.1Food allergies can have a wide ranging negative effect on children and their families, affecting life at home as well as the social lives of the family.
Sending a food allergic child to school, camp or any child care can be a scary task for a parent. Doctors are helping families prepare for these situations by ensuring that:
Each child has an epinephrine device
The family and child (if age appropriate) know how and when to use the device
The family can train others on how to use device
The student has an emergency plan (such as a 504 plan) for the facility in case of a reaction
Reactions in schools
Reactions in schools are actually rare. However, it is important to know that reactions do occur in schools and can be severe in some circumstances.
There has been a growing trend of parents who home school their food allergic child due to fear of a reaction. It is important to know that the vast majority of food allergic children can and do attend school safely.2-4
The highest risk of a reaction is from direct ingestion of the food. Studies have shown that reactions to environmental or airborne exposure to allergens are extremely low.  In summary, the greatest risk of a reaction is from direct ingestion of the allergen.
Management of reactions at school
Reaction to a food allergen should be treated in a universal fashion. Isolated skin or mild GI symptoms without signs of shock (ie. hypotension, respiratory symptoms) can be generally managed with short acting oral histamines such as Benadryl® or Vistaril®.
Epinephrine should be given as soon as possible for more severe reactions involving laryngeal, pharyngeal or respiratory symptoms, severe vomiting or shock, followed by antihistamines with additional epinephrine as necessary. These protocols should be clearly communicated to parents by the healthcare professional.
Food reaction scenarios are where an Emergency Plan or 504 plan for your child must be available and easy to follow for all appropriate personnel at the school. Full time nursing availability in schools is becoming uncommon, which has placed the burden on the teachers and administrations. Studies have shown that emergency plans are not always followed as written, especially in schools without full time nurses.  This is why the healthcare community and parents must seize the opportunity to better educate all involved.
Do you have any tips for managing your child's food allergies at school?
*This article was adapted from a Medscape Special Report, Oct 2011, written by Dr. Matthew J. Greenhawt, MD, MBA
Boyce JAS, Assa'ad A, Burks AW, et al. Guidelines for the diagnosis and management of food allergy in the United States: report of the NIAID-sponsored expert panel. J Allergy Clin Immunol. 2010; 126(6 Suppl):S1-S58
Young MC, Munoz-Furlong A, Sicherer SH. Management of food allergies in schools: a perspective for allergists. J Allergy Clin Immunol. 2009;124:175-182.
Greenhawt MJ, McMorris MS, Furlong TJ. Self-reported allergic reactions to peanuts and tree nuts occurring in schools and child care facilities (Abstract). J Allergy Clin Immunol. 2008;121(S1):S95.
Sicherer SH, Furlong TJ, DeSimone J, Sampson HA. The US peanut and tree nut allergy registry: characteristics of reactions in schools and day care. J Pediatr. 2001;138:560-565.
Published: 01/02/2012