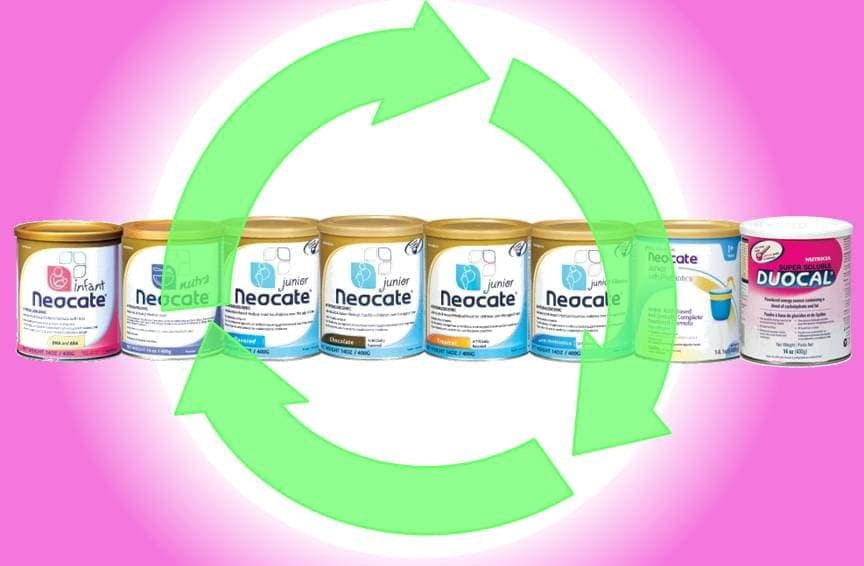 Over the past few weeks, we've provided you with tips for recycling or reusing your metal Neocate cans. But what about the accessories: the lids and the scoops?
In our recent recycling blog, we mentioned that the lids from Neocate (and Duocal!) cans can be recycled. This might vary, though, based on where you live. To be sure you can recycle the lids, check with your local municipality or curbside recycling pickup company. The key thing to look for is whether they accept number 4 plastics – the lids we use on our cans are number 4. As more localities continue to accept a bigger variety of plastics, we hope many of our customers can recycle their Neocate lids! You may also be able to find a nearby drop-off location by using the search feature on Earth911 with the term "#4 Rigid Plastic" and your city or zip code.

But what about the scoops that come with our products? Great news: if your municipality or recycling pickup company takes number 5 plastics, you can recycle the scoops as well! Number 5 plastics are also used in yogurt cups, other food tubs, plastic flower pots, and disposable razors. Even better news: for those customers who live in an area where number 5 products are not collected from the community, you have another option with Preserve®'s Gimme 5 program. You may be able to locate a local drop-off site where number 5 plastics are collected for Preserve. If that doesn't work, Preserve will even accept number 5 plastics by mail and turn them into consumer products. Now THAT'S recycling!
Do you have any crafty ideas for reusing or repurposing the lids or scoops from your Nutricia products?
– Rob McCandlish, RDN
Published: 01/24/2012