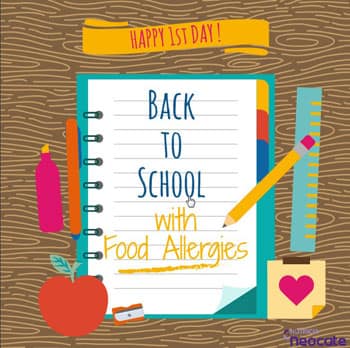 Summer is winding down, and it's time to start helping your children prepare for their return to class and food allergy. Your school might have sent school supply lists, teacher assignments, and schedule for school nights. Now, it's time to create your own food allergy checklist.
Whether your child is returning to the classroom or attending for the first time, here are some things to help make sure they have a successful, fun, and safe learning experience.  
Within the school:
If you don't know already, find out if your district has rules regarding food allergens in school.  For example, is it a "peanut-free" school?
Does your institution have its own rules regarding food allergens?
Is there a designated "safe" table in the cafeteria for families who chose to use it?
Is food allowed at any classroom parties or birthday celebrations?
With the classroom and health room:
Are staff members/teachers familiar with food allergies?
Do teachers know what an allergic reaction may look like?
Is the nurse familiar with how to use an epinephrine auto-injector? (Bonus: EpiPens at School Tips & How many EpiPens should your child have on hand?)
Are you up to date and current with your child's medical and emergency contact information?
Have you written an emergency plan for the staff in the event there is an accidental exposure?
With your child:
Is your child familiar with his/her signs and symptoms of an allergic reaction?
Does your child know to alert an adult in the event of an emergency?
Does your child wear a medical alert bracelet?  Or do you have a food allergy action plan?
Have you discussed the importance of NOT sharing foods with friends?
Does your child know how to deal with bullying when it comes to food allergies?
School years are some of the most fun and memorable experiences; following some of these tips can help ensure your child's first day back is no exception!
BONUS: If your child is going to school (or preschool) for the 1st time, make sure to read over 11 Tips for the First Day of School with Food Allergies we shared previously.
Published: 08/18/2016