Have you ever picked up a packaged food item and seen one of the following statements?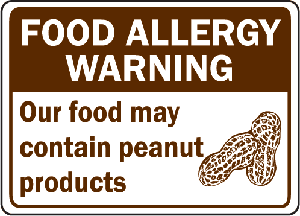 Made on shared equipment with peanuts
Made in a facility that also processes wheat and dairy
May contain tree nuts
May contain traces of egg
Confusing, right? I always wonder if manufacturers use such statements just to cover their behinds. Any one of these statements is completely voluntary and unregulated. These types of precautionary labels cannot be used to assess the risk of an allergic reaction. In fact, research conducted in 2007 found that many individuals with peanut allergy ignore these advisory statements.(1) The researchers tested 200 products with a peanut advisory statement and found that most (90%) did not contain detectable peanut protein. Of the 10% that did contain detectable levels, 65% had a "clinically significant" amount of peanut protein. This translates to ~7% of the 200 tested products (all carried a peanut advisory label) being found to have a detectable amount of peanut protein that would likely pose a risk to most peanut-allergic individuals, and about 4% with a detectable level that was deemed "not clinically significant."
Because these advisory statements aren't regulated, an expert panel has recommended avoiding any foods labeled with a precautionary statement related to your food allergens.(2) If you or a family member has a food allergy, you should ask your healthcare team whether you need to rely on these advisory statements. When in doubt, it can help to contact the manufacturer to ask what they mean by the statement they use. It is also wise to err on the side of caution and contact the manufacturer even if the product doesn't have an advisory label related to your food allergen, just to be safe.
Here are some of the most common terms on food labels, and what each of them means. If there are any more you're curious about, let us know.
Dairy Free: Food that is labeled as "Dairy Free" may still contain casein, whey or other milk products. It is important to check the ingredient lists of these products for hidden dairy. GoDairyFree.org has a great list of hidden dairy in a variety of products.
Gluten-Free: According to CNN, "The FDA has recently issued standards for foods to be labeled "gluten free." Currently, the "gluten free" label is voluntary — that is, it's up to the manufacturer whether to include it. Many foods are naturally gluten-free and may or may not be labeled as such." Products with this designation shouldn't contain gluten, which is a main component of wheat, however some studies have shown low levels. A great resource is csaceliacs.org, which has a list of safe foods.
Manufactured on the Same Line As/Made in Same Factory As: This means that while the food may not contain the allergen directly, it was manufactured on machinery used to make other products containing potential allergens like peanuts.
May Contain: Even though there are no allergens in the product, they could be cross-contaminated (for example if they share a production facility that manufactures a product containing allergens). Proceed with caution!
What sort of food allergen statements have you seen during your recent grocery trips?
–Rob McCandlish, RDN
1. Hefle SL, et al. Consumer attitudes and risks associated with packaged foods having advisory labeling regarding the presence of peanuts. J Allergy Clin Immunol. 2007

2. National Institute of Allergy and Infectious Diseases – Guidelines for the Diagnosis and Management of Food Allergy in the United States. 2007.

Image
Published: 08/12/2014