The sun is shining bright, days are longer, school is out of session, and I cannot wait to be outside enjoying the weather or sitting by the water. Yes, that is right. Summer is officially here!! Even when your schedule no longer changes with summer break from school, many of us look forward to this time of year.
Summer is a wonderful time of year for me since I cannot get enough of the sunshine and outdoor activities. I might just be walking my dogs late in the sunshine of the long days, sitting on a neighborhood bench while reading and enjoying the crisp evening air, or perhaps enjoying a refreshing beverage to keep myself cool while enjoying the company of friends. I will do almost anything to get outside and soak up some summer rays and take advantage of long days.
Unfortunately along with the wonderful summer sun comes the summer heat. And if you live in a humid climate like me, that can make the heat of a hot day quite uncomfortable. What better to cool you off than a refreshing beverage!? Well we here at Neocate have some quick and easy ideas for you to enjoy the Neocate you know and love with a bit of a twist to help you cool off in the summer heat.
Vanilla Orange Pineapple Fruit Blast Smoothie
How about some brightly colored oranges and pineapple to go along with those summer rays? Well, if you want to brighten your day then this Vanilla Orange Pineapple Fruit Blast Smoothie is a must for you. A few quick items into the blender and you will have a refreshing citrus smoothie to enjoy in the heat or maybe even poolside. Check out this video and recipe details and you will be minutes away from a bright and refreshing Neocate treat.
Here's a quick recipe card you can save and print for your records: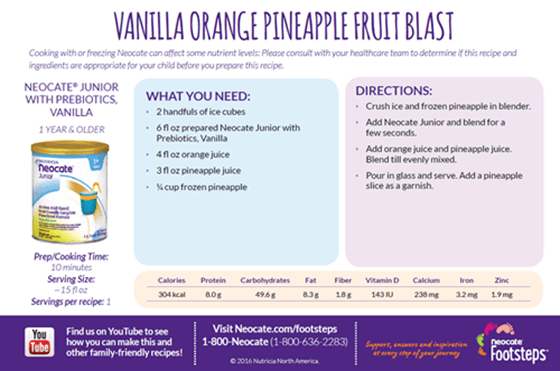 Pumped Up Peach and Strawberry Smoothie
Oranges don't seem to cool you off? No worries. How about Peaches and Strawberries? This Pumped Up Peach and Strawberry Smoothie has only 3 simple ingredients including some frozen fruit and Neocate Junior with Prebiotics, Strawberry flavor for some added strawberry kick. Just pop the 3 simple ingredients into the blender and you are just moments away from a tasty strawberry delight to help you cool off from the summer heat. Watch this quick video to see how simple and easy it is for you to enjoy one of your very own.
Click on the image below for printable recipe card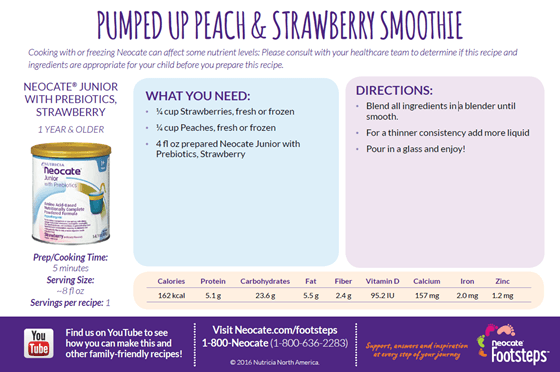 Cinnamon Chocolate Swirl Smoothie
I am a girl who loves to enjoy some chocolate. If you agree (at least with the chocolate bit), then this Cinnamon Chocolate Swirl Smoothie will really hit the spot. Perfect for when you want something refreshing and also a chocolate treat to perhaps satisfy your late summer evening chocolate cravings. This is a great one to keep handy when you want to take your smoothie with you on the go since you can add the Neocate Junior, Chocolate flavor powder directly to the mixture. After a quick shake in your shaker cup you are on your way with a refreshing beverage in hand.
Click on the image below for printable recipe card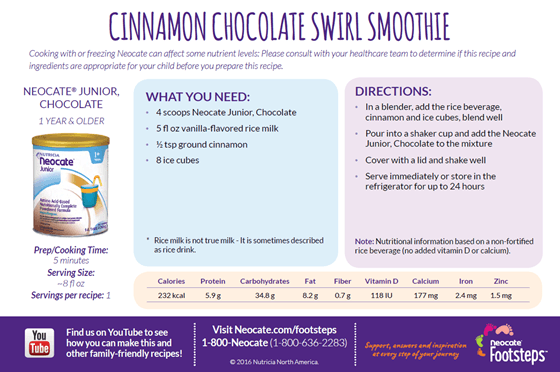 What are some of your favorite summer treats to beat the summer heat? Let us know how you like these recipes, or any other suggestions to beat the summer heat.
-Kristin Crosby MS, RDN
Published: 07/05/2016