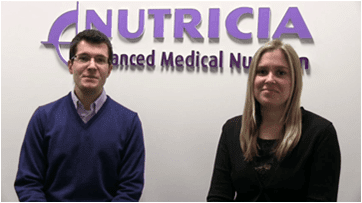 Cow milk allergy (CMA) can be difficult to understand. Children with CMA often experience multiple unpleasant symptoms. However, without fully understanding the reason behind these symptoms, it is hard to know how to manage them.  Being able to recognize the symptoms of cow milk allergy can lead to a faster diagnosis and, in turn, more potential solutions, which sometimes include an amino acid-based formula such as Neocate.
A few of the most common symptoms of cow milk allergies are listed in this short video. Although it does not talk about every possible symptom associated with CMA, the video lists eight of the most common symptoms.
As a follow up to our post on Tuesday about the common symptoms of cow milk allergy, today's post focuses on two additional symptoms: skin rashes and extreme fussiness.
Skin Rashes
Skin rashes can be caused by a number of things, one of which is CMA. Babies with skin rashes related to cow milk allergies may itch and scratch nonstop, and experience extreme discomfort. This may be worse shortly after feedings. Rashes often appear on the face, but can appear anywhere on the body. Remember, it is important to check with your child's physician if you suspect the rash to be related to cow milk allergy. For more information about skin rashes, read this post.
Extreme Fussiness
When your child is experiencing extreme fussiness, it can be very hard to pinpoint the reason behind it. However, if your infant is crying uncontrollably, it is possible that it could be due to a cow milk allergy.
Fussiness has been described in the past with the term "colic." For example, you might hear someone say that a baby who cries frequently is a "colicky" baby. Doctors are moving away from using the term colic because it's controversial. However, even if we don't have a great definition for colic, there's still something underlying the crying. For some infants, the crying can be due to digestive pain, which can be caused by a cow milk allergy.
When should you suspect that it might be described as colic or the crying could point to something underlying? Typically, if your baby is crying for more than three hours a day for more than three days in a week, over three weeks, then you should speak to your doctor. It is possible that your little one is experiencing gastrointestinal pain.  Extreme fussiness can also be associated with GERD (gastroesophageal reflux disease), so be sure to keep this in mind when speaking to your child's doctor about the possibility of CMA. For more information about GERD: http://bit.ly/1jApXUy.
Stay tuned for the next post in this series of common cow milk allergy signs and symptoms. 
Part 1 of 4 – Diarrhea, Vomiting
Part 3 of 4 – Slow weight gan, Gas (Flatulence)
Part 4 of 4 – Respiratory symptoms, Failure to thrive
Published: 10/25/2015