For parents of children with severe food allergies, sending them off to school can be a scary thing. Not only is there a risk that they will accidentally be exposed to an allergen, but bullying is on the rise. The best way to guard against this is to educate your child's school about food allergies, from the students to their principal and everyone in between.
To get you started, we've put together a list of some simple steps you can take to start the conversation about food allergies.
Prepare Your Child
This is the first line of defense. The more your child knows about their food allergies, the better they can explain them to others and know what foods to avoid at snack time or in the lunch room. Our blog entry on teaching your child to manage their own food allergies has some helpful tips. This can sometimes be difficult for younger children, so another option is to have them wear allergy awareness bracelets or clothing.
Set a Plan in Place
Before the school year starts, sit down with your child's teachers to explain their allergies and what to do in case of accidental exposure. Because food allergies are a disability, they are covered by the Americans with Disability Act and you can make use of a Section 504 plan. Another topic to discuss with your child's school is the potential for bullying and work together to develop strategies to prevent or address it.
Get Everyone Involved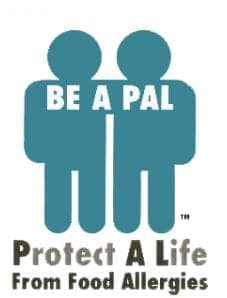 Many people (adults included!) simply don't understand the seriousness of food allergies, interpreting you and your child's concerns about food as pickiness or just "being difficult".
One way to teach other students about allergies and how to protect their classmates is the Food Allergy and Anaphylaxis Network's Be a PAL (Protect a Life) program. Another great way to educate your child's school is to work with the faculty or PTA to organize an educational assembly about food allergies.
We hope that these ideas help you in the process of educating your child's school about their food allergies. If you have come up with any creative ways to teach others about food allergies, be sure to share them with us in the comments section!
– Mallory West
Published: 12/07/2010