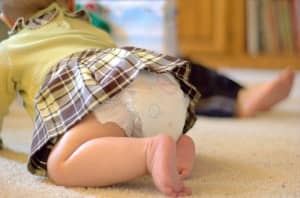 During the first months of life, parents pay close attention to their baby's bowel movements. Any variation from what they perceive as a "normal poop" can cause a lot of anxiety for a parent. So what exactly is a "normal poop or bowel movement"? The answer is complex; every baby is different so what is considered "normal" will vary from baby to baby.
The color, consistency and frequency of bowel movements may differ. It will depend on if the baby is breast-fed or formula-fed, as well as the mom's diet or the type of formula used. Below are some general guidelines to help you with your diaper expectations.
Color & Consistency:
Breast-fed babies: An exclusively breast-fed baby's stools will be a light mustard color and often will have seed-like specs. In terms of consistency, stools may range from very soft to loose and runny.
Formula-fed babies: For a baby consuming standard (milk or soy-based) infant formula, stools are generally tan or yellow in color. When it comes to consistency, a breast-fed baby will have comparatively firmer stools but usually not firmer than a peanut butter consistency.
Neocate babies: If your baby is on an elemental formula, like Neocate, stools may be greenish in color and are often relatively dark (but not black, black can indicate blood in the stools so always contact the doctor if you see this). This is completely normal and is due to the special composition of Neocate and the way it is digested in the body.
Regardless if your baby drinks breast milk or formula, blood in the stool is not typical so if you see this, you should let the physician know right away.
Frequency:
The frequency of bowel movements varies greatly from baby to baby. Some newborn babies may have a bowel movement after each feeding and others may go once a day or even once every two days. During the first weeks of life, before you have learned your baby's pooping pattern, it is generally advised to call the physician if the baby goes three or more days without a bowel movement.
Breast-fed babies: After the first month, breast-fed babies usually have fewer bowel movements than before. It some cases, it is normal for a baby to have only one bowel movement a week. Breast milk leaves little solid waste so bowel movements are less frequent However, as long as the stools are soft (no firmer than peanut butter) and the baby is healthy and growing, there is no reason for concern.
Formula-fed babies: Formula-fed babies typically have one or more bowel movement a day. If you are concerned that your baby has infrequent bowel movements or notice that he/she is straining to pass a bowel movement, this may indicate that he/she is constipated so check with the doctor.
Neocate babies: Because Neocate is so broken down, it is very easily digested and there is very little waste leftover. Therefore it's normal for bowel movements to decrease in frequency once you switch to Neocate. As long as stools aren't overly hard and dry and the baby doesn't seem to have trouble passing them, this is perfectly normal.
Constipation:
Regardless if your baby is breast-fed or formula-fed, hard or dry stools that are difficult to pass may indicate constipation. Talk with the doctor about what you can do to help. Sometimes the solution is as simple as providing additional fluids. Other times, the doctor will prescribe a laxative to make it easier for your baby to pass bowel movements.
Diarrhea:
Because a newborn's stools may be soft and slightly runny, it may be difficult to tell if they have diarrhea. A significant increase in frequency or an extremely liquid bowel movement are signs to look for. Severe diarrhea can cause dehydration so if you are concerned that your baby has diarrhea, contact the physician.
With Baby Poop, Normal Depends on the Baby
The general message for this post is that every baby has their own "normal poop" and what's normal for one baby may not be normal for another. The key is to look out for any sudden change in your baby's normal bowel movements. Keep in mind that occasional variations are normal, especially once a baby begins taking solid foods.
Hopefully this gives you some guidance for what to expect at diaper changing time. Keep in mind that you know your baby best, so if you're ever concerned about your baby's bowel movements, contact the physician just in case. What have you experienced? What advice would you share with other moms?
–Mallory West
Published: 10/28/2010