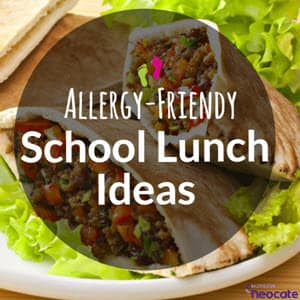 Do you find yourself in the morning frenzy mode as you get your kids AND their lunches ready for school?  You are not alone!  Rushing in the morning can be stressful and potentially can put you into a lunch idea rut. To help you saygoodbye to boring and dull lunches and to help lessen some of that morning frenzy stress, here's some inspirational ideas that you might find useful.
We started this round-up of ideas by first asking our Facebook and Instagram followers their favorite go-to lunch ideas. Here are some of the ideas that you shared with us for lunch box treats:
Ready-made fruit  pouches
Chips
Marshmallows
Other fun ideas from around the Web:
Kids with Food Allergies (KFA) – hosted a webinar about Allergy-Friendly School Lunch box Ideas that includes blogger Keeley McGuire and Registered Dietitian, Debra Indorato addressing ways to make lunches creative and nutritious.  
Need Neocate in your lunchbox?  We have you covered! Our Neocate Cookbooks are a great resource. For example you can find delicious recipes such as Cream of Broccoli Soup, Hamburger Harvest Soup, Vegetable/Cracker Dip, Neocate Shakes, Dairy-free Mac and Cheese.
Last but not least, lunch-box planning doesn't have to be something that you take on by yourself. Get your kids involved. Give them opportunity to learn how to prepare their meals and pack their own lunches. Additionally, this will also provide them with a sense of empowerment by making recommendations. Empower your kids- let them have a say about their lunch box content
Do you have any other nifty ideas for allergy kids school lunch boxes?  Please share.
-Jody Long
P.S. If you missed our blog post on the importance of lunch-box printables and labels, take time and look over it today. 
GoGo squeeZ is a registered trademark of Materne North America Corp. Lay's is a registered trademark of Frito-Lay North America, Inc. Jet-Puffed is a registered trademark of Kraft General Foods, Inc. Nutricia North America is not associated with Materne North America Corp, Frito-Lay North America, Inc and Kraft General Foods, Inc.
Published: 11/01/2017