We often get calls from parents who are interested in thickening Neocate. In today's post, we'll explore the reasons for thickening formulas (or bottle-fed expressed breast milk) and some information in case your little one's heatlhcare team recommends it.

There are two main reasons a healthcare professional might recommend to thicken your child's formula.
1) Reflux: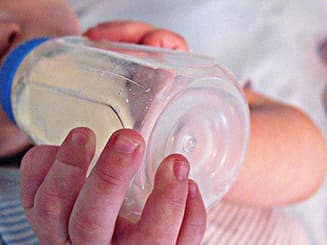 One reason is for gastroesophageal reflux. If your child suffers from reflux, the physician may recommend thickening her formula or bottle-fed breast milk by adding a small amount of rice cereal. This practice is somewhat controversial. Some physicians recommend it and others feel that it can actually worsen reflux for some infants. It also dilutes the nutrient content of formula or breast milk.
Thickening bottle feedings is shown to reduce vomiting but there are mixed results in terms of its effect on reflux itself. Every baby is unique and for some babies, thickening with rice cereal is seen to be helpful.
If your baby's healthcare team has recommended trying to thicken your baby's formula, be sure to ask lots of questions at the visit. If your baby has food allergies, make sure the ingredients in the rice or oat cereal they recommend are appropriate. We have heard from several parents that their child reacted to certain brands of rice cereal, only to discover that some contain soy, or are made on shared equipment with other major allergens. As always, read the labels carefully for ingredients. It is also possible for babies with multiple food allergies or food protein-induced enterocolitis syndrome (FPIES) to be allergic to rice protein.
We don't recommend thickening Neocate, nor do we recommend NOT thickening Neocate. It really depends on the circumstances and it is something for the healthcare team and the parent to decide. That said, the nutrition in Neocate will not be harmed by the addition of a thickener, but they can be diluted by a thickener. As long as the doctor or dietitian recommends it, there is no problem with thickening Neocate. Keep in mind that thickening formula may make it difficult for the baby to drink it, so you may have to adjust the nipple size accordingly.
2) Swallowing Problems; Dysphagia:
Swallowing problems, also known as "dysphagia", is another reason for thickening formula (or bottle-fed breastmilk). According to the Children's Hospital of Boston, dysphagia describes the inability of food or liquids to pass easily from the mouth, into the throat, and down into the esophagus to the stomach during the process of swallowing. Swallowing problems can be dangerous because of the risk for aspiration, which happens when food or liquids go into the windpipe and lungs (where they don't belong!), which can lead to pneumonia.

When a child has swallowing problems, the physician or feeding specialist may recommend altering the consistency of liquids and solids in the diet to make swallowing easier. Sometimes the physician may recommend thickening with rice cereal, and other times they will recommend a commercial thickener such as Thick-It. In the case of dysphagia, there is no problem using a thickener with Neocate, so long as it is recommended by a healthcare provider and it contains no ingredients that are allergens for the child. 
Do you thicken your child's formula or bottle-fed breast milk?
–Mallory West
Nutrition Specialist
Published: 02/28/2012