It wouldn't be wrong to say that we live in an 'Appy World' with several mobile applications available to manage our day-to-day activities. With rapidly evolving technology, managing food allergies has become easier. There are several apps that tell you what is in your food, show you how to administer epinephrine, and identify safe food options when you're traveling or away from home. Here are our top five picks for the best food allergy apps: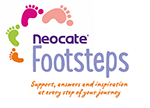 Make sure to check-out new Neocate Footsteps app launched April 2016. This app is for anyone with food allergies or those who care for children with food allergies. Neocate® Footsteps is the only app that specifically helps track usage of amino acid-based formulas and other food intake, allergic symptoms, moods, sleep times, diapers and more. It also provides helpful resources authored and edited by medical professionals on a weekly basis to help you stay in-the-know.

Sometimes it's difficult to search for an 'allergy-friendly' restaurant while you're travelling across the US. When you download Allergy Eats, it offers a database of restaurants organized by city, zip code, or your current GPS location. With this app you can also review peer-ratings of the restaurants' allergy-friendliness, and post your own ratings. This app is available in the iPhone and Android store for free. 
My Food Facts allows you to shop for groceries and identify food allergens in a product by simply scanning its barcode. All you have to do is create a personal profile that summarizes your food allergies. The app sends alerts to the shopper if food allergens are present in the scanned product, taking out the guess work. 
·

The My EpiPlan app includes everything from management to tips. It also has information on step-by-step use of a specific brand of epinephrine auto-injector. The app helps you keep track of which allergens you and your family need to avoid, and where your auto‑injectors are located and when they expire. The app is available in the iPhone and Android store for free.

iAvoid Food Allergy is a simple and user-friendly app designed for the food allergy community that helps to identify and avoid products and ingredients responsible for the eight most-common food allergies.
We would like to hear from you about the apps you use to manage your family's food allergies. Do you have an app you love more than these? Please share it in the comments. 
Published: 04/15/2015