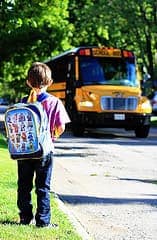 It's hard to believe that summer is over and the kids are heading back to school. When your child has food allergies, a new school year can be a little more complicated. In today's post, we'll share some tips and resources for a smooth transition back to school.
First and foremost, it's essential to educate the new teacher and classroom aides about managing your child's food allergies in the classroom since this is where your child will spend the most time. You also need to educate the school nurse and cafeteria staff. If possible, arrange a meeting with the new teacher, school nurse, and the head of the cafeteria staff prior to the beginning of school to discuss what is required to keep your child safe. Even if the staff has not changed from the previous school year, after 3 months away, it's still a good idea to refresh them about your child's needs.
If you don't already have one in place, develop a food allergy action plan and ensure that everyone who cares for your child during the school day is aware of it. This includes not only teachers, nurses, and cafeteria staff, but also bus drivers, after-school caregivers, etc. If you already have an action plan in place, be sure to notify everyone about any changes or updates since last year.
If your child requires an epinephrine auto-injector, make sure to provide one to the school nurse, along with any other medications that may be required. Be sure to check the expiration date on the epinephrine.
For more tips and resources on going back to school with food allergies, visit these links:
We hope everyone has a happy & healthy school year!
–Mallory West
Published: 08/28/2014