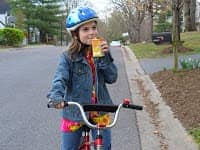 Not so fast. School might be out, but with camp, fairs, carnivals and trips to fun places…summer is not the time to let your guard down about food allergies.
Of course, it is summer…you and your children should go to the pool, have picnics and play in the sun! You just need to do these activities as food-conscience as you do all the others throughout the year.
Here are a few tips:
Call ahead if you are attending an event – It can't hurt! Find out if they are going to have an ingredient list available. If not, pack your child his/her own tasty summer snacks.
Bring food substitutes – If you are going to be outside all day where safe food won't be available, make sure to bring food allergy snacks or nutritionally complete drink boxes like Splash.
And as always, be prepared – make sure that epinephrine auto-injector is always close by.
Any plans for safe summer food fun? I'd love to hear them!
– Sarah O'Brien
Published: 06/13/2008