Grennan Sims is a registered dietitian and the Nutrition Education Coordinator for the Hickman Mills C-1 School District in Kansas City, MO.  Grennan has worked in school nutrition for nearly 20 years, developing healthy school meals and teaching children ages 3-18 years about making healthy food choices.  She's also the mother of a child with severe food allergies. "I'm on a mission," she says, "a mission to protect the lives of the children we serve in school nutrition.  I know what it's like to worry about sending your child with a food allergy to school.  My goal is to empower school nutrition professionals with the knowledge and skills necessary to effectively manage food allergies in school kitchens and cafeterias."
Grennan serves on the Food Allergy Management & Education (FAME)national advisory board, where she is honored to share her unique perspective on the management of food allergies in school nutrition.  She is also a contributor for AllergyHome.org and Food Allergy & Anaphylaxis Connection Team (FAACT).  Grennan has presented at numerous local and state conferences.  In July 2014, she teamed up with a pediatric allergist and nurse to offer a comprehensive training workshop about food allergies at the School Nutrition Association's Annual National Conference.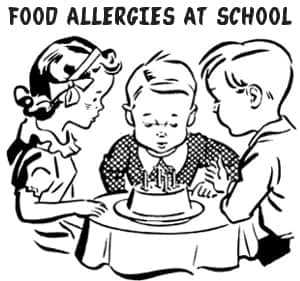 As the mother of a child with a severe food allergy I know-all too-well the fear of sending your child to school and praying she comes home safely.  We used to insist Rachel take her lunch to school whenever pineapple was offered on the menu, but often it was paired with her favorite school lunch entrée that she rarely got to enjoy because of it. 
<SIGH> 
As a school nutrition dietitian, how could I deny my daughter who wanted to buy a school lunch?
I knew that school nutrition professionals read and re-read (and read again) literally hundreds of food labels.  I knew they implement cross-contact prevention strategies as they prepare thousands of meals every day.  They wash hands and change gloves between every new task.  They check and recheck lists of students with noted food allergies.  But still, I was anxious about sending my baby to buy lunch at school when pineapple was on the menu.
<DEEP BREATH> 
I spoke to the district level supervisor responsible for managing food allergies to make a plan that included my daughter's teachers, the school kitchen manager, my daughter and my husband.  The plan evolved as Rachel got older – she now goes through the lunch line and self-carries epinephrine.  Here's what we did early on and things we still practice today:
Provide school nutrition office with required documentation signed by physician.  Schools should not make food substitutions without a doctor's statement identifying the medical condition (ie. food allergy) and how it restricts the diet, major life activities affected, what foods must be omitted and what foods are allowed.  It is good practice to provide updated forms each year.  Ask if your district requires annual updates.  Restrictive diet changes must be updated in writing and signed by a doctor.
 
Ask the school nutrition director about food allergy management training provided to district culinary team.  School nutrition departments are required to meet professional training standards, including food safety.  Share food allergy resources, as necessary.  Early and frequent communication with school nutrition staff helps support their success and can create peace of mind for both of you.
 
Introduce your child to the school nutrition manager and staff.   Everyone in the kitchen should know what your child looks like, as well as what is his/her food allergy or other diet restricting medical condition.
 
Speak directly with the kitchen manager at your child's school before the start of school, if possible.  Provide list of safe foods he/she enjoys.  If available and affordable, schools will make every reasonable attempt to provide foods your child likes and can safely eat based on doctor's orders and plan developed.


When Rachel was in elementary school, on days pineapple was offered, we emailed the kitchen manager her safe menu choices.  If something on the menu was not available, the manger let us know alternatives offered.  School Nutrition staff pre-plated the meal and her teacher retrieved it from the serving line to avoid accidental exposure in the self-service area.  Rachel ate lunch with "safe lunch buddies" every day.
 
Middle school brought new freedoms and responsibilities for Rachel.  She lets the kitchen manager know if she plans to eat school lunch each day.  If pineapple is offered, staff provides safe side dishes in covered bowls so Rachel can avoid potential cross contact on the self-serve bar.
 
 Next year, high school will present new opportunities for us to partner with school nutrition staff!
The first time we let Rachel buy lunch on a "potentially life threatening day" was one of the longest days of my life.  I was on pins and needles checking my cell phone all day, praying it didn't vibrate on my desk at work.  I forced myself not to meet her at the bus stop that day, but watched with relief as my then second grader walked home to me that day.    I asked about her day, which included asking her to tell me something fun or exciting that happened.  "I got to eat chicken tenders today," she said with a huge grin on her face.  "Oh yeah, how was that?"  I asked.  "Delicious!" she exclaimed.  I asked if everything went okay.  "Yep," was all she replied.  All that worry over nothing.  After two years of packing lunches every day, she finally got to eat school lunch again.  Whew!
–Grennan Sims, RD, LD – District Dietitian, Hickman Mills C-1 Schools, Kansas City, MO
Published: 05/28/2015