Hillary Savoie, PhD is the Chief Communications Maman at the Feeding Tube Awareness Foundation (FTAF). She is also the founder and director of The Cute Syndrome Foundation (TCSF). Her daughter Esmé, who has two rare genetic disorders, PCDH19 Epilepsy and SCN8A, is four years old and the inspiration for her work with FTAF and TCSF. This post has been adapted from a post on The Cute Syndrome, Hillary's blog about life with her Esmé.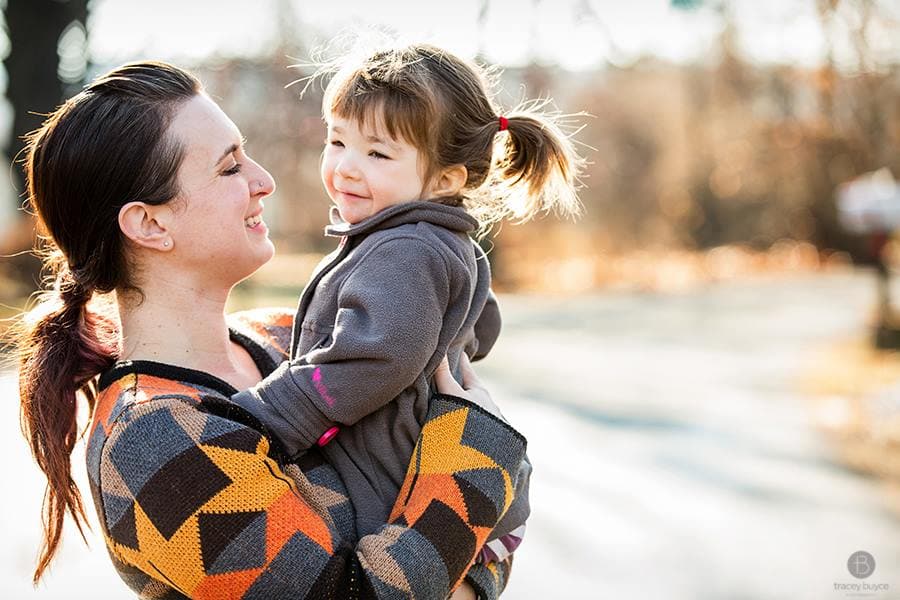 Photo credit: Tracey Buyce Photography, Photo courtesy of The Cute Syndrome Foundation
My daughter Esmé has never had an uncomplicated relationship with food. Her very low tone and poor swallowing reflex makes it extraordinarily difficult for her to eat or drink by mouth easily or safely. So, at 3 ½ months-old Esmé had a feeding tube (G-tube) surgically placed in her abdomen. In the four years since then she has consumed virtually all of her calories, water, and medications this way.
I wish I could tell you that I was welcoming of this change, that I was proud of Esmé's tube from the day it was placed. But I wasn't. It is embarrassing for me to say, given how I now feel about my daughter's feeding tube, but I was very resistant to tube-feeding at first.
It took months before I was able to realize that tube-feeding Esmé wasn't a parenting failure. It was a parenting triumph.
And the thing is, my love for the tube now seems so simple to me: My daughter's feeding tube gave her a chance at life, a chance she would not have otherwise had. What is less simple, however, is why it would take me so long to learn to be proud of the small plastic device that helps keep my daughter alive, thriving, and safe. When I stop to think about it, I believe that my initial fears about tube-feeding had so much to do with my ignorance of feeding tubes.
Like many people I didn't really know much about feeding tubes—until I was faced with the prospect of Esmé having one.
The only experience I had with a feeding tube prior to having Esmé was one that I only understand now that I mother a child who has a tube. I went to Kindergarten with a little boy who I knew had some kind of health challenges. He wore a bandage on his stomach every day. I recall that we knew to be gentle with him—that there was something different about his body—but no one ever really talked to us about how or why.
It was a mystery to me. He and I were friends in the manner of many little kids—he chased me on the playground and tried to kiss me. I could outrun him, but I didn't. I can still remember playing with him one day at the swing set. He lifted his arms up and as his shirt rose, I could see the large piece of gauze stretched across his belly. I was curious, so I asked him about it. He tried to explain something to me about how he ate, lifting up his shirt so I could see more, but before he could show me he was herded away by some well-intentioned adult. I felt ashamed, certain I had done something wrong. I'm quite sure he did as well.
It makes perfect sense to me now. He must have had a feeding tube, and he was not supposed to show it or talk about it. I have thought about that moment hundreds of times since Esmé's tube was placed. I have thought about how, if he had been allowed to explain, to show the phenomenal device that helped keep him able to chase me, that years later I might have understood sooner that this same tube could help my daughter have a fuller life.
I might have agonized less if I had known more.
The Feeding Tube Awareness Foundation
I joined the Feeding Tube Awareness Foundation staff two years ago. I am so proud of the work that we do helping parents of children who are tube-fed share their knowledge with each other and with medical professionals. We help to establish a positive image of feeding tubes, to spread knowledge about life with feeding tubes, and to support families to help feel empowered to care and advocate for their children who are tube-fed. I feel confident that, as a direct result of that work, if I were a little girl on the playground today being chased by an adorable little boy with a feeding tube, my question about his tummy would more likely be met with an open dialogue about the miracle that is tube feeding—that he would have been able to proudly display the little device that kept him thriving.
And then, we'd have gone back to playing.
Published: 03/12/2015