Our guest blog today comes from Raquel Durban, a Registered Dietitian specializing in immediate and delayed food allergies in Charlotte, NC.  Raquel is a medical advisory board member for the Food Allergy and Anaphylaxis Connection Team (FAACT) and an active participant in the American Academy of Asthma, Allergy and Immunology (AAAAI), American Partnership for Eosinophilic Disorders (APFED) and International Network for Diet and Nutrition in Allergy (INDANA).  We would like to thank Raquel for this post.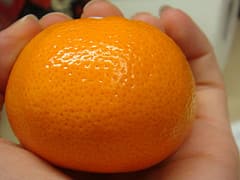 Think oranges are only for juicing? Think again! Oranges can provide a fun and educational experience to practice using auto-injectable epinephrine! While in clinic one afternoon, a mother pulled out a bag of citrus fruits (oranges and grapefruits work best because of their large size) and her expired auto-injectable epinephrine.
To my surprise and delight, she wanted to inject the oranges with her expired epinephrine devices so that I could "see" her practice and validate her administration. What makes this such a great idea? While the training devices for auto-injectable epinephrine are great teaching aids, the actually devices are heavier than the test devices, as they are filled with epinephrine. Also, the skin and flesh of the citrus fruits mimics a thigh very well.
I wanted to pass along this great idea to other families who might like to practice using expired auto-injectable epinephrine. If practicing with a little one, make sure you give them a helping hand. And after your practice session, please ensure that you dispose of the expired auto-injectable epinephrine correctly by checking with your doctor's office or pharmacy. Some cities also have household hazardous waste programs that accept medical waste.
Image source: Debbie
Published: 07/31/2015