Neocate is the only line of hypoallergenic, amino acid-based products that offers such a wide array of choices. We offer so many choices that it can be confusing to understand the similarities and differences between our products!
In this post we're going to walk you through some of the similarities and differences between the Neocate products. We'll also highlight some additional features for each product.
Let's start with the similarities
All Neocate products are hypoallergenic and specifically designed for individuals with food allergies and related digestive and allergic conditions. All Neocate products are amino acid-based to reduce the chance of an allergic reaction from even a small fragment of a protein.
Many of the ingredients are also similar between the options, just in different amounts to meet the nutritional needs at different ages. We already discussed our protein source being amino acids. For more information about ingredients check out these pages that discuss the fats, carbohydrates, and vitamins (vitamins K, C, E, A vitamin D and B vitamins) in Neocate.
Another similarity between all of our Neocate products is that they do not contain soy oil. This has always been true for most of our Neocate products, and we were able to make this improvement to Neocate Infant in 2013.
Finally, all Neocate products are confirmed through testing to be dairy-free. Aside from all of the steps we take to make sure there's no dairy in the products, like making the powdered products in a 100% dairy protein-free facility, we test every batch to be extra sure!
Now let's talk about some differences
The main difference is the age range that each product is designed for. As your child grows, they have different nutritional needs and so the products that meet their needs will also change. There are also differences between the products to best serve our customers who most often use them. Let's look at each of the 5 product options and their individual differences.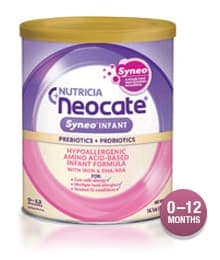 Neocate® Syneo® Infant is intended for infants 0-12 months. This is the first and only hypoallergenic infant formula that contains a blend of prebiotics and probiotics, specifically designed for food-allergic infants. It also has all of the benefits of Neocate Infant, which you can read about below.
Neocate Syneo Infant is our latest innovation, and it's specially formulated for the dietary management of infants with cow milk allergy (CMA), multiple food allergies (MFA) and related GI and allergic conditions, including food protein-induced enterocolitis syndrome (FPIES), eosinophilic esophagitis (EoE) and gastroesophageal reflux (GER). Want to know more about prebiotics and probiotics, which make this formula special? Learn more about Neocate Syneo.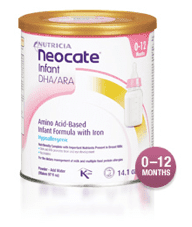 Neocate® Infant DHA/ARA is intended for infants 0-12 months. This was the first amino acid-based formula to contain nucleotides. It also has added DHA at a level comparable to that found in breast milk. Nucleotides, DHA, and ARA are naturally found in breast milk. Not sure what DHA and ARA are? Learn More about DHA and ARA: What are they and why are they in infant formula?
Neocate Infant was the first in our line of products to be certified Kosher Pareve, and certified Halal. Neocate Infant is designed to meet all of your baby's nutrition needs, otherwise called nutritionally complete. There is no gluten added to Neocate Infant DHA/ARA.
How to Mix Neocate Infant DHA/ARA: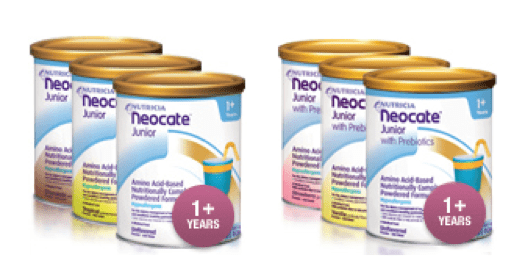 Neocate® Junior is for individuals over 1 year of age. It is also nutritionally complete and can be used as the sole source of nutrition or as a supplement to a limited diet. It comes in a variety of different flavors. 
Neocate Junior is the only hypoallergenic formula that includes prebiotic fiber. (It is also available in Unflavored without prebiotic fiber.) What is prebiotic fiber? Check out these blogs to read a little bit more about Prebiotics 101, or the importance of fiber.
Neocate Junior is available in a total of 5 flavors in 6 options. Neocate Junior is available in Unflavored and delicious Vanilla, Strawberry, Chocolate and Tropical flavors. If you're not looking for prebiotic fiber, Neocate Junior is available in Unflavored. We would tell you which one is our favorite, but we love them all!
Some of the Neocate Junior formulas are certified kosher pareve. In addition, all of the powdered Neocate products are made in the same facility, on the same dairy protein-free equipment, and using many of the same ingredients from the same suppliers, none derived from milk or dairy. All varieties of Neocate Junior also have no gluten added.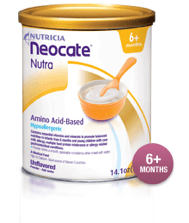 Neocate® Nutra is for children over 6 months of age. It mixes up to the consistency of infant cereal (though it's not a cereal!), and we call it spoonable. Neocate Nutra is designed to help your child experience solid food as she develops feeding skills, while still avoiding the allergens that might make them sick.
Many older children use Neocate Nutra to add texture and variety to their diet.  While Neocate Nutra provides some of every nutrient and is a good source of key nutrients like calcium and vitamin D, it is not enough on its own to meet all your child's nutrition needs (it's not nutritionally complete).
Neocate Nutra is gluten-free, which means we regularly test to ensure that it is gluten-free. We take this extra step because so many children use this instead of an infant cereal, and having a gluten-free option is important to many families.

Neocate® Splash is designed specifically for individuals over one year of age. It is a quick ready-to-drink option in a convenient 8 oz drink box. Neocate Splash is nutritionally complete, with a nearly identical nutritional profile to Neocate Junior. It comes in 4 great-tasting flavors: Vanilla, Orange-Pineapple, Tropical Fruit, Grape, and Unflavored. Neocate Splash is ideal for drinking orally or taking through a feeding tube.
Many families are looking specifically for formulas used in tube feeding to be gluten-free, so we take the extra step to regularly test Neocate Splash to ensure that it is gluten-free to give this as an option. There are also no artificial preservatives or colors added.
Now that we have discussed the basic similarities and differences between our Neocate products, I am sure you are ready to use the one that is best for you and your family members.
Here are a few other helpful resources:
What other questions do you have about the similarities or differences in the Neocate products?
– Jody and Rob
Last updated May 19, 2020
Published: 02/26/2016