This blog is a follow-up to Nita's informative blog "Fats 101". If you haven't already, I encourage you to read it first to gain a better understanding of all the different types of fats out there.
When reading the ingredient label, you may notice all the different types of oils used in Neocate. Why are there so many types? Each one is a source of a different type of fat, and a variety of fats are needed to maintain a balanced blend of fatty acids to help your baby develop and grow properly.
Sources of fat found in Neocate products include:
Refined Vegetable Oil made up of:

High Oleic Sunflower Oil
Soy Oil
Canola Oil
M. Alpina Oil (source of ARA)
C. Cohnii Oil (source of DHA)
*Keep in mind that all of the proteins from these ingredients have been extracted. Since proteins are generally what cause an allergic reaction, Neocate should still be an appropriate choice for your little one – even if they have a soy, coconut or sunflower allergy.
 Take a look at this very helpful chart which compares different sources of fat: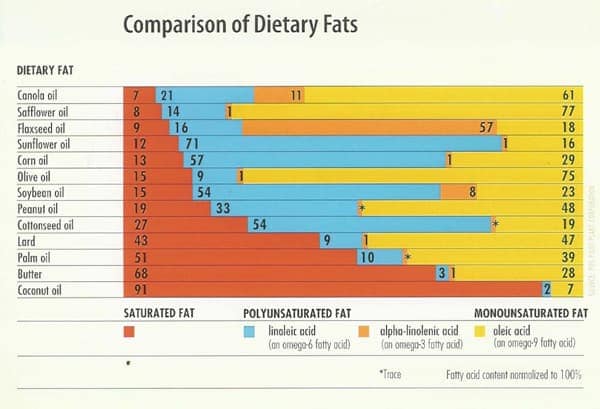 I have this chart near me at all times to help me understand what exactly each fat ingredient contains.
You will notice how some ingredients have a very specific ratio of polyunsaturated, monounsaturated, and saturatedfats. Each fat found in Neocate was specifically chosen to ensure there is a balanced blend in order for your child to get the right amounts of essential fats needed to grow and thrive.
You may also notice that Neocate Infant, Neocate Junior and Neocate One+ all have different percentages of fat. This is because children need different amounts of fat depending on their age and medical conditions. For this reason, it is important to pick a formula that is tailored to your child's specific needs.
Infants need plenty of fat for proper growth and development, so Neocate Infant contains 41percent fat. Once children get to be a little bit older, fat should be taken in moderation, so Neocate One+ has 32 percent fat. If your child has a GI or allergy disease, they might have issues with malabsorption of certain nutrients. Neocate Junior is specially formulated to account for this with 45 percent fat and higher amounts of other important vitamins and minerals.
Mallory will be diving deeper into the fatty acids DHA and ARA at the end of the month, so be on the lookout for that blog!
I hope this helps a bit with understanding the ingredients in the Neocate Infant formula. If you still have questions about these or any other ingredients, ask away!
– Christine Graham-Garo
Published: 03/23/2010