This blog is a follow-up to Nita's informative blog "Fats 101". If you haven't already, I encourage you to read it first to gain a better understanding of all the different types of fats out there.
When reading the ingredient label, you may notice all the different types of oils used in Neocate. Why are there so many types? Each one is a source of different types of fatty acids, and are needed to maintain a balanced blend to help your child develop and grow.
Sources of fat found in Neocate products include:
Refined Vegetable Oils made up of:

Medium Chain Triglycerides (Palm Kernel and/or Coconut Oil)
High Oleic Sunflower Oil
Sunflower Oil
Canola Oil
M. alpina Oil (a source of ARA)
C. cohnii Oil (a source of DHA)
Keep in mind that these oils are highly refined in a multi-step process that removes protein. Proteins are the triggers for typical food allergy reactions. Ask your doctor, especially a board-certified allergist, if you have questions about highly refined oils. In general, experts in food allergies feel that highly refined oils pose "no risk of provoking allergic reactions in the overwhelming majority of susceptible people." Also, Neocate products in the US do NOT contain soy oils.
Fatty acids are compounds that make up fat molecules. Some fatty acids are easily absorbed – Medium Chain Triglycerides, or MCT. These can be helpful for patients who have fat malabsorption, or difficulty digesting and absorbing fat. Other fatty acids, linoleic acid and alpha-linolenic acid, are essential fatty acids. That means the human body can't make them, and we HAVE to get them from our diet.
This helpful chart which compares the levels of a few fatty acids from different sources of fat: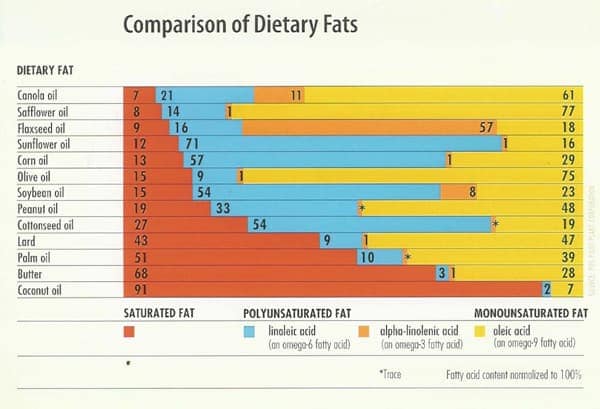 You will notice how different oils provide different levels of certain fatty acids. Each oil used in Neocate was specifically chosen to ensure there is a balanced blend in order for your child to get essential fats needed to grow and develop.
Observant parents might notice some sources of fat in Neocate Syneo and Neocate Infant that aren't used in Neocate products for older children. Those are specifically M. alpina and C. cohnii oils. These are added to infant formulas because they're sources of DHA and ARA. These fatty acids are found in breast milk, and play roles in brain and eye cells.
I hope this helps a bit with understanding the oils in Neocate, which are sources of essential fatty acids. If you still have questions about these or any other ingredients, ask away!
– Christine Graham-Garo
– Rob McCandlish, RDN
Last updated July 18, 2018
Published: 03/23/2010