September marks National Preparedness Month, a time when families develop safety plans in the event of a natural disaster or emergency. At Nutricia, we've been thinking about our Neocate famililies and what it means to be prepared in light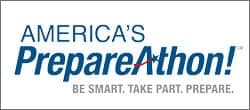 of having food allergies and facing a natural disaster. To help we have outlined a list of tips and resources for families to refer to as a tool to help manage food allergies in the event of an emergency.
1. Have a Sufficient Supply of Bottled Water: In the wake of disaster or an emergency, one of the first things to be impacted is the water supply. Families managing food allergies should be sure to keep a sufficient supply of bottled water for hygiene (hand washing, toliet flushing and teeth brushing) as well as food preparation. The Red Cross recommends having at least one gallon of water per person in a household. For example, if you have a family of three, you are encouraged to store away three gallons of bottled water.
2. Have a Sufficient Supply of Safe Foods: Managing food allergies can be challenging under normal circumstances. This becomes even more true when there is an emergency. FEMA suggests keeping three days worth of non-perishable safe foods to have as an eating supply during a natural disaster. Families using Neocate should remember that Neocate mixed formula is good up to four hours at room temperature.
3. Have a Sufficient Amount of Medical Supplies: During an emergency it is possible injuries may occur. To help alleviate the potential of growing injuries, be sure to have at least seven days worth of medical supplies on hand. This includes having an epinephrine auto-injector, if prescribed, in case of an anaphylactic shock.
With these tips, families will be more prepared in the wake of disaster. For additional resources, information and tips for creating a plan visit:
Published: 09/02/2014