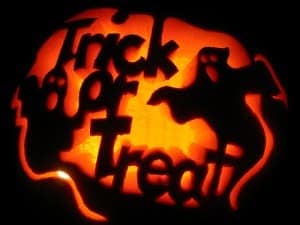 We shared our top 4 Tips for Celebrating Halloween Without a Food Allergy Scare. But with Halloween coming up this weekend we wanted to share a round-up of all the great "Halloween with Food Allergies" tips we've seen recently. Here is some more great advice from our favorite blogs and advocacy groups!
Kids With Food Allergies recommends pre-positioning safe candy at friends houses along with other advice for safe trick-or-treating and school parties.
Gina Clowes of Allergy Moms has 15 Halloween Safety Tips in her latest newsletter. She recommends pulling a "switcheroo" and buying two of the same treat collectors, letting your little one trick-or-treat, but then swapping their loot out with the safe version once you get home.
The Food Allergy and Anaphylaxis Network has ten tried and true tips for keeping your child safe on Halloween. We love their idea of having children leave any unsafe candies for the "Good Witch", who collects them and leaves safe treats instead!
Have you read any great ideas for having a safe, but fun, Halloween? Be sure to share the links!
– Sarah O'Brien
Published: 10/26/2010