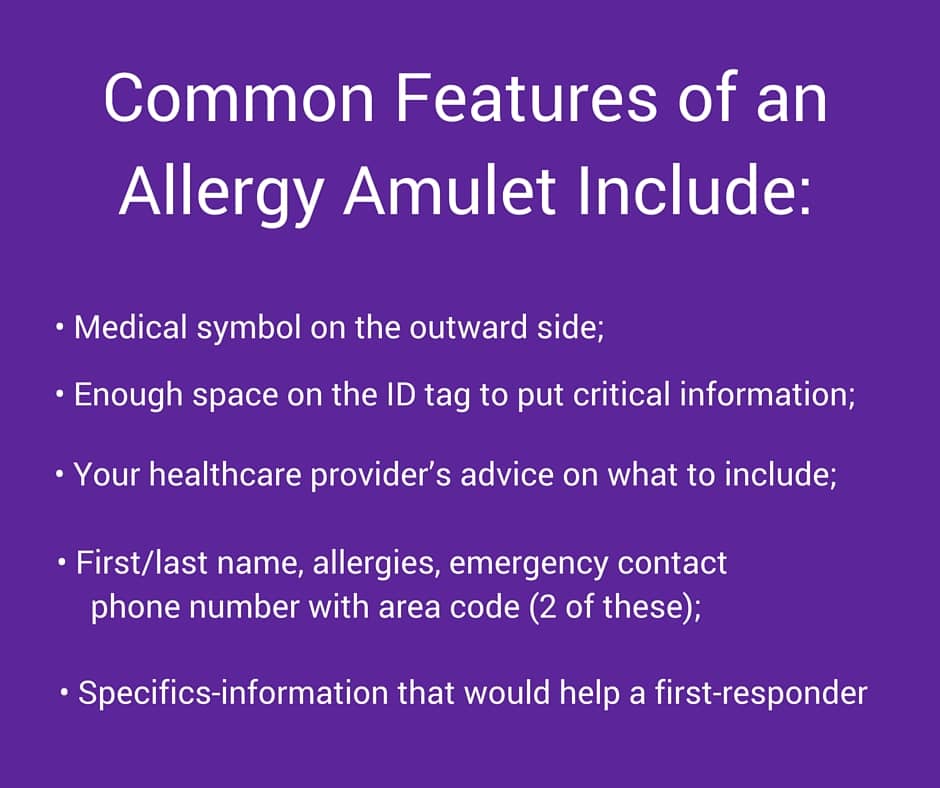 Bright yellow signs, tape, and flashing lights might work well to alert folks about a potential hazard situation. However, most children and teenagers would prefer not to be adorned with blatant or obnoxious labeling that draws attention to their allergy situation.  
Let's face it though, food allergies are on the rise and many elicit severe reactions. Unexpected medical emergencies can happen anytime and anywhere.  Parents aren't always around when their child encounters an allergy emergency, and they need to have some peace of 
mind. Wearing some sort of allergy ID alert is essential. An amulet (ornament or small piece of jewelry thought to give protection against evil, danger, or disease), can be easily worn and visible.  This is a great way for medical and school personnel to understand that a child has a food allergy if the child is unable to convey it himself.
A survey of emergency responders found over 90% of participants look immediately for medical jewelry (bracelet/necklace), while the remaining respondents noted they check for this after assessing the situation.  Note that visibility and ease of access to info is key.
Nowadays, the market place offers a lot of options in terms of medical/allergy identification, and is keenly aware of style trends and fashions. Choosing something age/gender appropriate that can be worn at all times is important too.  Having older kids choose the amulet of their choice is a good idea, in hopes that it will assure they WILL sport their allergy ID. 
Another thing to take into consideration when choosing an amulet is how active the person wearing it is.  If your child is sports-minded, something durable and perhaps waterproof may be necessary, such as rubber or mesh.  Good quality stainless steel also stands up to wear and tear.
A review of the top 2016 allergy alert bracelets found that more than half of the bracelets go beyond the typical ID features, and include a special device, such as a flash drive capable of holding a more complete and detailed medical history.
Perhaps though, the most important thing to think about when choosing an allergy identifier is what information to include on the allergy alert.  Here are some considerations:
·       Medical symbol on the outward side;                
·       Enough space on the ID tag to put critical information;
·       Your healthcare provider's advice on what to include;
·       First/last name, allergies, emergency contact phone number with area code (2 of these);
·       Specifics-information that would help a first-responder (note:  allergies come in all different sizes and symptoms.  They can be driven by type, exposure and immune response. Also include if the allergy is mild or urgent).
Stay tuned for future availability of something brand new to those with allergies, the Allergy Amulet.  This is a wearable device with the ability to detect food allergens within one minute of contact. Right now, this has only been crafted and tested for peanut allergies, though extension to include many more allergies is in the works.
If you're ready to shop for an allergy ID, here are some sites to consider:
http://www.zoobearsmedicalid.com Focus is on infant, toddler and children
http://www.americanmedical-id.com Variety of styles for all ages and genders
http://www.universalmedicaldata.com features stylish devices with flash drives
Do you have an allergy alert ID for your child?  You never know when it might be a lifesaver.
By Jody Long-Benitz, M.S., RDN
Published: 12/24/2015