Neocate Fruity Tutti Pancakes
Doesn't this name just makes you want to try some! This is a great recipe if you are looking for a nice, hot breakfast option. Pefect if the rest of your family is eating pancakes and your are looking to make allergy-friendly option.  Pancakes also make a good finger-food option for weaning toddlers.
Want to print or save this recipe? Click the image below for your own recipe card: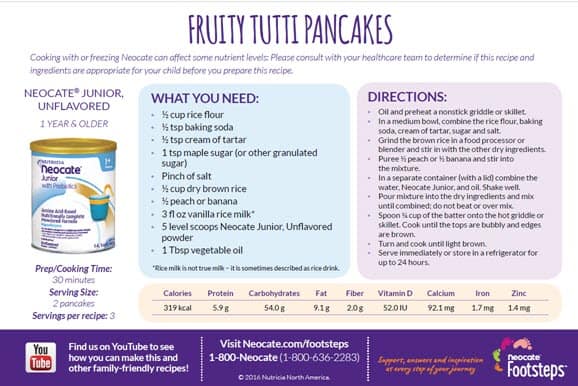 Baked Oatmeal
(Submitted by: Kristy Harbaugh)
1 cup oil (can sub. applesauce)
1 1/2 cups sugar (can reduce)
4 eggs
6 cups oats (not the quick-cook kind)
4 tsp baking powder
1 tsp salt
1 tsp cinnamon
2 cups water
Combine all ingredients in order listed.  Pour into a greased 9 x13" pan.  Bake at 375°F for 30-40 minutes until lightly browned.  Serve with fresh fruit (bananas, strawberries, blueberries).
Notes: Do not use cooking sprays as all of them contain soy.  I used olive oil.
Serving Size: 8
Per Serving:
Calories: 650
Protein: 11g
Carbohydrates: 79g
Fat: 6g
French Toast
(Submitted by: Katherine Kennedy)
2 Pieces of spelt bread
1/4 cup of soy milk
Dash of cinnamon
Combine milk and cinnamon. Dip and coat the bread lightly in the soy milk mixture. Place on preheated skillet on low-med heat. You will have to cook it longer to ensure the soy milk dries and the toast isn't mushy.
Serving Size: 2 pieces
Per Serving:
Calories: 250
Protein: 10g
Carbohydrates: 44g
Fat: 5g
Cinnamon Breakfast Bread
(Submitted by: Mary Blackorby)
With fall just around the corner, this is a fun option to warm up on a cool morning.
2 cups Bob's Red Mill All Purpose Baking Flour
3 tsp gluten-free baking powder
2 tsp sugar
1/2 tsp salt
1/2 cup Spectrum Organic All Vegetable Shortening
5 fl oz rice milk (or Neocate formula)
Stir together flour, baking powder, sugar & salt. Cut in shortening with a fork until fine and mealy. Add rice milk (or Neocate formula) all at once. Pour into a greased 8" pan, sprinkle with cinnamon sugar mixture and bake at 400°F for 10 to 12 minutes. Serve warm for breakfast.
Serving Size: About 12 servings
Per Serving:
Calories: 150
Protein: 2g
Carbohydrates: 17g
Fat: 9g
Nutrition information for cinnamon bread recipe above calculated using rice milk.
Banana Bead Muffins
(Submitted by: Laura LaMotte)
4 ripe bananas
3/4 cup sugar
1/2 cup of dairy-free margarine
1 tsp vanilla
1/4 tsp salt
1 tsp baking soda
1/4 tsp cinnamon
2 cups of brown rice or oat flour
Preheat oven to 350°F. In a food processor, blend bananas, sugar, margarine and vanilla. Add remaining ingredients and process until smooth.
Pour into muffin tins and bake for 15-20 minutes, or if using a bread loaf tin, for 60 minutes. Let cool and enjoy!
Serving Size: 15 muffins
Per Muffin:
Calories: 230
Protein: 2g
Carbohydrates: 43g
Fat: 7g
Wheat-Free Pumpkin Muffins
(Submitted by:Karen Mischler)
3 cups wheat-free flour
2 cups sugar
1/2 tsp cinnamon
2 tsp baking soda
1 cup canola oil
2 cups canned pumpkin
In a large mixing bowl, sift together dry ingredients. Add oil and pumpkin, mixing well. Transfer into lined muffin tin and bake at 350°F until fork inserted in center comes out clean (about one hour).
Serving Size: 10 muffins
Per Muffin:
Calories: 330
Protein: 3g
Carbohydrates: 31g
Fat: 23g
For additional Neocate recipe ideas, make sure to download Neocate Footsteps Recipes Guide.
Do you have a favorite recipe that you would like to share with the Neocate community? Post below, we would love to hear about your favorites.
Published: 08/25/2016