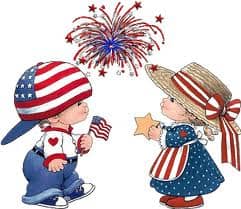 With the Fourth of July around the corner, we wanted to share some food allergy-friendly ideas and recipes for you to enjoy during the holiday weekend. We wrote a blog in the past that may help to find general food allergy tips for planning a day out of the house.
In honor of the Independence Day, I compiled a couple food allergy-friendly recipes with a red, white and blue theme. As always, check the ingredients to ensure they are allowed in your little ones diet. Also, recipes can always be tweaked to meet your needs, so if you have other ideas on how to make it better for your family, feel free to experiment.
Being the Nutritionist, I tend to stay away from high fat and nutritionally void treats. Fruit recipes are always a great way to add beneficial fiber as well as important vitamins and minerals to a healthy diet.
These recipes are all diary free and egg free.
This recipe is definitely a family favorite, with that same classic taste without the dairy. I prefer to use my own dairy-free vanilla ice cream if I have the time, but for weeknight desserts or quicker treats, a dairy-free store-bought variety works just as well. Feel free to use whatever fruits you like along with the strawberries; peaches, mangoes and other berries are always a nice variation.
Ingredients
About 3 cups fresh strawberries, hulled and cut into halves
¼ cup and 2 Tbsp. white sugar, plus more for sprinkling
1 ½ cup all-purpose flour
¼ cup and 2 Tbsp. white sugar
2 ½ tsp. baking powder
¼ tsp. salt
6 Tbsp. dairy-free soy margarine, cut into pieces
½ cup unsweetened plain almond milk, soymilk or rice milk
Dairy-Free Vanilla Ice Cream, either store-bought or homemade
Directions
Preheat the oven to 400 degrees. Line a large baking sheet with parchment and set aside. In a medium mixing bowl, toss the strawberries with the 2 T. sugar until well coated. Cover and place in the refrigerator for about 20-30 minutes.
Meanwhile, make the biscuits. In a food processor, mix together the remaining ¼ cup sugar, flour, baking powder and salt until well-mixed. Add the dairy-free soy margarine, pulsing until the mixture resembles fine crumbs. With the machine still running, add the non-dairy milk alternative gradually, until the dough just begins to hold together and pull away from the sides of the bowl.
On a lightly floured surface, turn out the dough and pat into 8 small round biscuits. Transfer the biscuits to the prepared baking sheet, sprinkle lightly with sugar, and bake about 18-22 minutes, or until golden. Allow the biscuits to cool on the baking sheet. To serve, place two biscuits on each plate with a scoop of dairy-free vanilla ice cream and a helping of the sugared strawberries.
WHITE Bean and Garlic Dip
Recipe originally posted on http://christensenka.squarespace.com/
Ingredients
2 cups cooked (1 c dry) white beans, ie. Great Northern, Cannellini, Navy, or Butter Beans (canned beans may be used)
2-3 garlic cloves
1/4 c olive oil
1/4-1/2 c bean cooking liquid, broth, or water
1 Tbsp fresh thyme or 1/2 Tbsp dry
Juice of 1/2 lemon
1/2 tsp sea salt
Fresh cracked pepper
Optional: olive oil, salt, pepper, and thyme for garnish
Directions
If starting with dry beans, soak overnight, then cook beans per desired method, saving any leftover bean cooking liquid. If using canned beans, drain beans, and rinse well.
Place cooked beans in blender or food processor, along with garlic, olive oil, 1/4 cup liquid, thyme, and Vitamin C crystals. Pulse a few times, then blend until well smooth. If mixture is too thick, add additional liquid as necessary while blending. Add salt and pepper salt and pepper to taste, and blend again to mix. To serve, scoop into serving bowls, and drizzle with additional olive oil, salt, pepper, and thyme leaves. Store leftover dip in the fridge for up to 5 days, or freeze in an ice cube tray and store in a freezer bag for up to 3 months.
Pineapple-Strawberry (or BLUEberry) Granita
Ingredients
1 cup strawberries or Blueberries, hulled
1 1/2 cups pineapple juice
1/2 cup sugar
1/4 cup water
Directions
Purée strawberries (or blueberries) in blender or food processor; pour in pineapple juice, blend and set aside. In small saucepan over medium heat, bring sugar and water to a boil, stirring occasionally to dissolve sugar. Remove from heat and let syrup cool, about 20 minutes. Whisk pineapple-strawberry mixture into sugar syrup and pour into to a shallow metal pan. Place pan in freezer, mixing with a fork every 30 minutes until frozen, about 2-3 hours.
If you have any other recipes to share, please let us know, we would love to hear them.
Enjoy the 4th of July weekend!!
-Christine Graham-Garo
Published: 07/01/2011