Patient History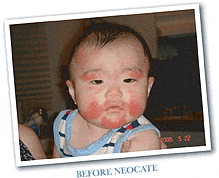 At two and a half months old, R.J. was experiencing a painful, itchy, red rash on his cheeks that quickly spread to his chin, ears and neck. By the time he was four months old, the condition worsened, spreading to his scalp, back, stomach, legs and diaper areas. Baby R.J. was miserable.
The rash was so itchy and irritating that he was constantly scratching his face and rubbing it against anything he could find. He was extremely fussy, crying excessively and having difficulty sleeping. R.J.'s condition affected the entire family. His father said "I personally had a difficult time eating and concentrating at work, as it broke my heart to see him suffer."
Nutritional Management and Outcome
R.J.'s parents took him to several doctors who tried several different treatments, all to no avail. Treatments included topical steroids, topical anti-fungals and oral antihistamines. They purchased dust-free bedding, allergen-removing carpet shampoos, high-quality air purifiers, a shower filter for R.J.'s bath water, chlorine-free diapers and wipes and 100 percent cotton bedding and clothing. R.J. still had no relief. R.J.'s mother was breastfeeding and tried eliminating possible food allergens from her diet as well as switching to a milk-based formula and then to Nutramigen (i.e. hydrolysate formula). Nothing worked. Finally, the family found a pediatrician who recommended Neocate, an amino acid-based formula used to manage the nutritional therapy in infants and children with an allergy to dairy proteins. The dairy allergy can cause a variety of gastrointestinal, respiratory and skin problems. For R.J., the allergy had manifested itself as eczema. "Neocate worked almost overnight to improve the rash," says R.J.'s father. In less than a week, R.J. was sleeping better, crying less and the rash had reduced so much that it was barely visible. R.J. enjoyed drinking Neocate, a nutritionally complete amino acid-based formula that will provide him optimal growth.
Summary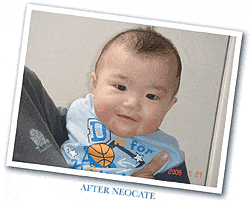 R.J. suffered from a severe case of eczema resulting from a dairy protein allergy. The condition made him – and the entire family – miserable. After a pediatrician recommended R.J. to use Neocate, he improved rapidly and dramatically.
The majority of the rash disappeared in just a few days, allowing R.J.'s family to enjoy a happy, healthy baby.