Family's background
Meet Remy! He is 15 and diagnosed with Eosinophilic Esophagitis (EoE), a food allergy-related condition. Remy manages his EoE with an elimination diet and supplements with  Neocate® Splash to help close nutritional gaps. Hear his story as told by his mom, Raquel.
About Remy
My name is Raquel. My 15-year-old son, Remy, was diagnosed with Eosinophilic Esophagitis when he was 14 months old and also has multiple anaphylactic food allergies, including to milk. He started drinking Neocate® Splash soon after his diagnosis and has been drinking it for 13 years both as his sole source of nutrition and as a supplemental formula.
EoE Diagnosis
Remy was diagnosed with a milk allergy when he was eight months old. He was then placed on a soy formula but did not improve. It was at that time I chose to see a specialist – I was met with the run-around until I found a gastroenterologist at Riley Hospital for Children at Indiana University. After his first endoscopy, he was diagnosed with EoE. This was in 2007, when EoE was fairly uncommon and our local allergist didn't know much about it. Another mom in my circle introduced me to APFED, an organization for families dealing with EoE. This is where I learned about Neocate® and asked our allergist if it would be a good fit. I'm so glad I did!
Managing EoE with an Elimination Diet & Neocate Splash
Supplementing with Neocate was the best decision my healthcare team and I made for Remy. Previously, we were feeding Remy rice milk, after the soy formula caused issues.  But, we noticed that he wasn't growing properly and realized that he wasn't getting all the nutrients that he needed to grow.  After a few food trials and fails, Remy took Neocate as his sole source of nutrition at five years old to give his esophagus enough time to get better.  As we were trying to add foods back into his diet, we supplemented with Neocate® Splash, which made me more confident he was getting the nutrients that he needed. Since we wanted to manage his EoE with an elimination diet and not with steroids, it was important for us to find a formula he could stick with – and he has for 13 years. Orange-pineapple is his favorite flavor!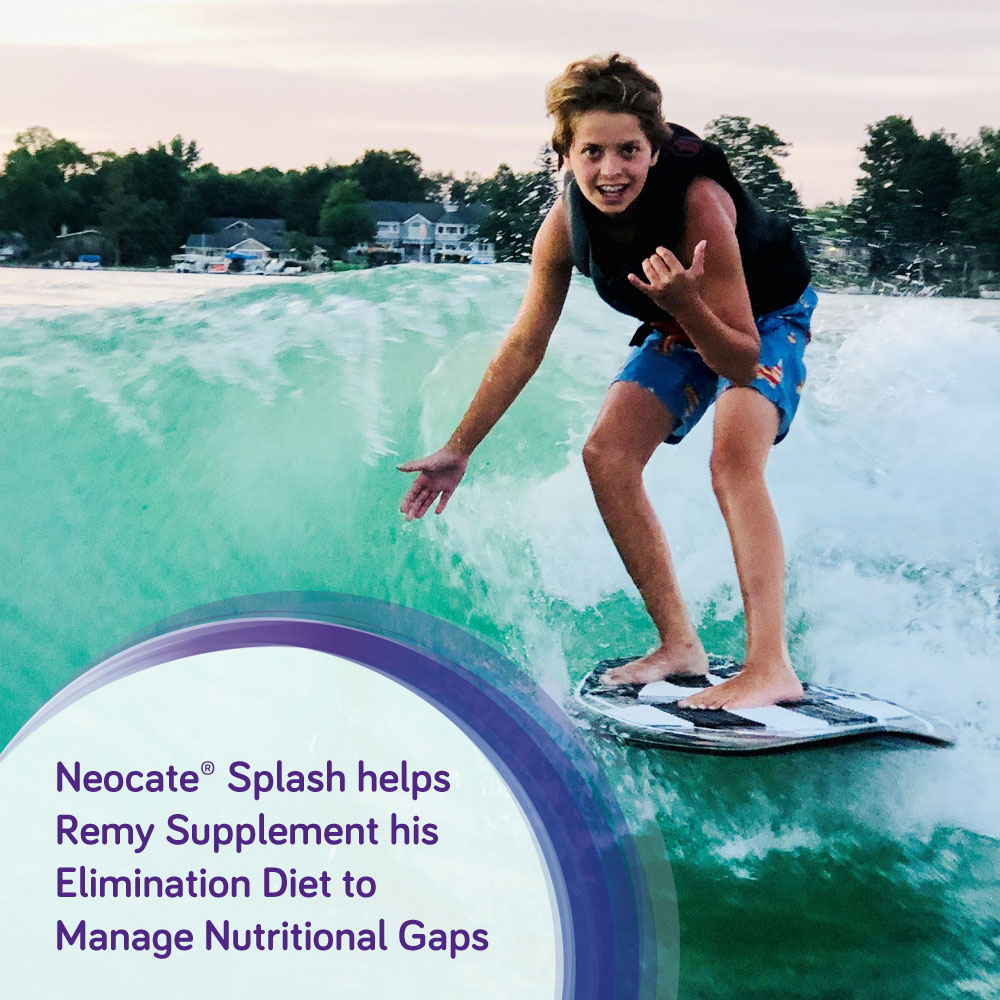 Remy Today
With Neocate Splash, Remy is an active teenager who plays hockey, wake-surfs, snowboards and has straight A's. We are blessed that he is doing so well despite the challenges he's faced his entire life. Thank you, Neocate®!
The opinions expressed are those of the author of this testimonial and not necessarily reflective of the views of Nutricia North America
Neocate® is a family of hypoallergenic, amino acid-based medical foods. Neocate is intended for use under medical supervision.
Neocate Splash is indicated for the dietary management of cow milk allergy, multiple food allergies and related GI and allergic conditions, including food protein-induced enterocolitis syndrome, eosinophilic esophagitis and gastroesophageal reflux.