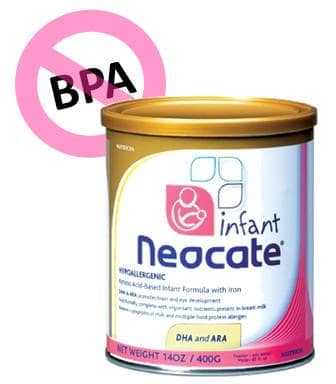 Over the past few years, a lot of attention has been paid to bisphenol A, or BPA – which was commonly used in food packaging. As we've mentioned in previous blog posts, BPA is still out there due to a lack of suitable replacements, though is a lot less common as a result of public concern. Many manufacturers have been able to remove BPA from their food packaging materials as well as from plastic dishes and containers. You may have recently seen items like baby bottles and water bottles labeled as being BPA-free.
Even though some of the chatter on this topic has died down, we here at Nutricia still often get questions about whether Neocate packaging contains BPA. It's normal for parents of children who use Neocate products to be more aware of things that other parents might not think to look for. So, we wanted to briefly remind you and any new Neocate parents that the package linings for Neocate products do not contain BPA.
Our first blog on BPA in 2009 discussed the fact that all of the powdered Neocate products are packaged in cans that have a BPA-free lining. But we still got questions from parents about Neocate Splash, our ready-to-feed liquid elemental formula in the Neocate family. In early 2010 we confirmed that Splash is packaged in cartons that have a BPA-free liner. More great news!
If your little one uses any of the Neocate products, you can rest assured that there is no BPA in the package linings.
– Rob