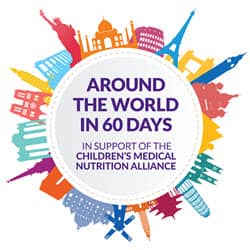 There are thousands of children in the United States with allergic or rare metabolic conditions that struggle every day because they are unable to eat the same foods as everyone else. We are asking you to sponsor an organization that helps these children get the specialized medical nutrition that they need in order to grow and develop.
Inadequate & Uneven Coverage is Just One Of the Many Barriers to Medical Foods Access
As you may know, specialized medical nutrition, like Neocate, is recommended and prescribed by pediatric doctors as an important part of managing early childhood disease. However, often times the important products that families need are not entirely covered by insurances. The families of these children face many worries and an enormous burden trying to ensure their children can eat without pain and develop normally.
This is where Children's Medical Nutrition Alliance (CMNuA) comes in. CMNuA is a 501[c]3 non-profit organization that supports families in covering a major part of their expenses with medical nutrition in those cases where the child's insurance is unable to help. The money they use to help these families comes from financial donations and fundraising events.
CMNuA empowers, educates, assists, advocates for and supports ALL patients who require medical nutrition. In doing so, CMNuA has created the first-ever national coalition dedicated to enhancing the lives of all patients in need of medical nutrition regardless of their underlying condition.
Around The World in 60 Days Challenge
At Nutricia, the makers of Neocate, we understand the struggles these families go through and how necessary CMNuA is for them. That is why this year we have challenged ourselves to virtually Walk Around the World in 60 days (#ATW60D) in support of CMNuA. The challenge will require our team to collectively walk 25,000 miles in 60 days. Nutricia North America will donate $10,000 to CMNuA if the goal is met! Our challenge starts March 15th and will continue until May 10th 2017.
The virtual walk will be divided into 4 phases. We will track our progress via fitness trackers and will report on them over the coming weeks: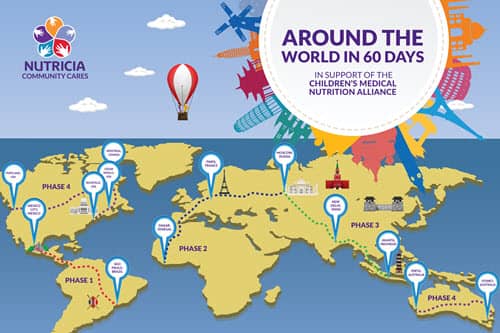 Stay tuned as we will be updating our progress on #ATW60D over the next 60 days!
Week 2 Update (March 15 – March 29)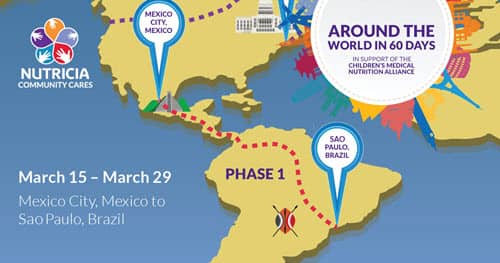 Oi! Bem-vindo a São Paulo, Brasil! Hi! Welcome to São Paulo, Brazil! We have now walked a total of 16.874.240 steps since we started.With the successful completion of phase 1 we have also unlocked the first $2.500 donation to CMNuA from Nutricia! On top of that we have continued to see donations come in from other sources, which is great! Thank you all for sharing the word!
Week 3 Update (March 29 – April 4)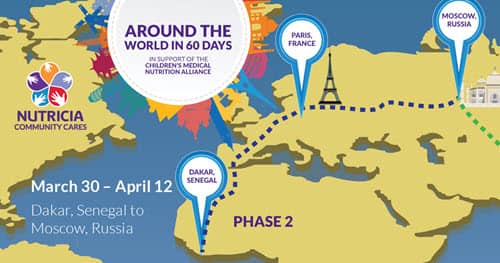 Bonjour! We have entered phase 2 of our virtual walk around the world. We are currently in France, soon to be walking through The Netherlands – over halfway to our phase two destination, Moscow! We have walked a total of 25,685,996 steps and completed 38% of our virtual journey. Some fun facts:
This week we have taken over 8.8 million steps
On average our team is walking 9.6 thousand steps per day per stepper
Countries we've walked through on the way: Senegal, Maurita, Algeria and Spain
Don't forget to keep spreading the word and helping our team to raise funds!  Donate Today! [This event has passed and the donations page is now closed]