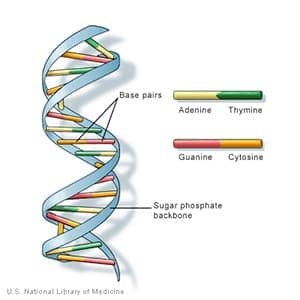 Many of you have heard the great news that our new and improved Neocate Infant DHA/ARA has added nucleotides, among some other great improvements. More details on those improvements can be found here. Neocate Infant is the first and only hypoallergenic formula to offer nucleotides. You may be wondering: what are nucleotides, and why add them to Neocate Infant?
Nucleotides: building blocks of DNA
The basic explanation is that nucleotides are the building blocks of DNA (and its partner, RNA). DNA is in our cells, and it contains our genes, or the codes that make of us unique. The same way that protein is made of chains of amino acids, DNA and RNA are both made from long chains of nucleotides. (Nucleotides do not contain protein, nor are they the same as amino acids.) You can find a better, more detailed explanation of DNA here.
Why add nucleotides to formula?
Nucleotides are found in human milk, along with a lot of other helpful components. Scientists realized that nucleotides might provide some benefits to breast-fed infants, including to the immune system. Nucleotides were first added to cow milk-based formulas as early as the 1960s, and have been used in formulas in the US since the 1980's.
One of the possible benefits of adding nucleotides to formula is that they may help to support growth in some formula-fed infants. You can read more about the evidence of how nucleotides may support growth in this publication. Nucleotides may also help to reduce how often formula-fed infants get diarrhea and how long the diarrhea lasts. Here is evidence that adding nucleotides to infant formula may minimize diarrhea.
Many infants who need an elemental formula may have experienced growth delays while trying to find the right formula. We at Nutricia want to do everything we can to offer the best possible formula to infants who need an amino acid-based diet. Because of the long history of nucleotides being safely added to formulas, along with the potential benefits, we decided to help many of the little ones that need Neocate Infant DHA/ARA by adding nucleotides.
Hopefully this clears up any confusion over nucleotides! What other questions do you have?
–Rob McCandlish, RDN
Published: 09/24/2013