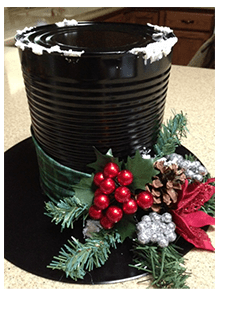 We've written before about recycling Neocate cans as well as recycling Neocate lids and scoops. We've also shared some ideas for getting creative with Neocate cans in arts and crafts. But have you ever considered "upcycling" Neocate cans at the holidays? We got this idea from an EoE family that we met at the annual APFED patient conference. They told us that money was tight one year, so they found ways to reuse the many Neocate cans they had lying around. We love the idea!
First, what is upcycling?
The term "upcycling" describes reusing a product or material that you would otherwise discard or recycle. To be more specific, upcycling means reusing the product in such a way as to create a product of a higher quality or value than the original product. Upcycling is considered to be a step above recycling from an environmental perspective. For example, you might be familiar with all of the creative ideas that have come up in recent months for reusing Mason jars. Those are examples of upcycling! So how can you upcycle Neocate cans at the holidays?
Turn Neocate cans into gift containers
Who needs boxes and wrapping paper or expensive gift bags when you can do something really creative? As long as your gift will fit inside, you can make a great gift container with a Neocate can. See this post and swap the called-for coffee can for a Neocate can. Pretty cool, especially with the gold lid! Invite your family members to see who can make the most festive gift container, or who can get most creative.
Turn Neocate cans into gifts
What could be better than a handmade gift for someone you care about? We'll take handmade gifts over storebought merchandise any day! The possibilities with Neocate cans are almost endless. See a previous post for ideas to turn Neocate cans into musical instruments, containers for plants, or even a piggy bank. The plant container idea could be especially great when you're trying to think of something nice to do for your neighbors.
Turn Neocate cans into decorations
If you're like us, you use the same holiday decorations year after year. For a change of scenery this season, how about turning a Neocate can into a nice holiday gift basket to hold baked goods or goodies when giving gifts? For a fun family activity, how about a holiday time capsule with notes and pictures to open next year, or even in another 5 years? You can also turn a single Neocate can into a decorative can to hold greenery as a centerpiece. If you have several cans and really want to create a masterpiece, turn a stack of cans into a snowman with a top hat.
What great suggestions does your family have for upcycling leftover Neocate cans?
-Rob
Image from "The Evolution of Mom"
Published: 12/15/2015